*Jeremy Hellickson has the best WHIP (0.71) in the NL, albeit through merely 4 starts. However, this is on the heels of a strong 2016 campaign, so he's lining himself up as a sought after trade chip. Of course, he could potentially stay with the Phillies, as a mid-season extension could be a viable option.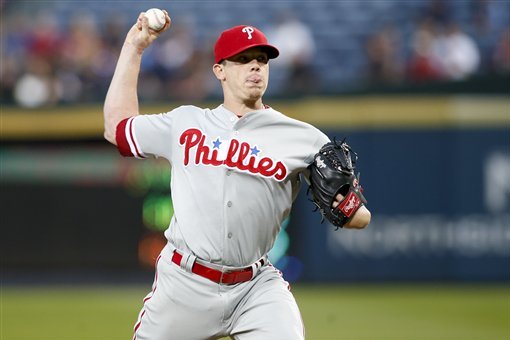 *The 9th inning onward has been a disaster for the Phillies so far, no matter who is handed the ball. In 13.2 innings they've allowed 5 homeruns to go along with a ghastly 7.24 ERA, 1.46 WHIP, an .892 OPS against.
*Andrew Pullin is a bit of a forgotten man in terms of outfield prospects, but since being promoted to Double-A Reading last season he's laid waste to poor defenseless pitchers. In 59 games, he's hit .344/.967, with 38 R, 16 DBL, 13 HR, and 39 RBI. Double-A is where Dylan Cozens put his name on the map, so perhaps the same will ring true for Pullin.
*Cole Irvin was the Phils 5th round draft pick last year and he's making good on their trust. Through his first 13 G, 10 of them starts, he has a 7-2 record over 65.2 innings with a 1.64 ERA, 0.96 WHIP, and 54 strikeouts. Currently in Clearwater, he has the potential to move through the system quickly. A mid-season promotion to Reading is likely in my opinion.
*The Phillies offense has been improved overall since last season, especially considering many players still haven't found their stride (Franco, Galvis, Rupp, Joseph, Saunders). They lead MLB in pitches seen per plate appearances and are middle of the pack in runs, batting average, and OPS. Once the pitching sorts itself out, this team should be able to contend on the daily basis.
*Once again, WSBGMs is tracking The Howard (homerun, strikeout, and error by the same player in one ball game). Tampa Bay Rays' third baseman, Evan Longoria, has moved atop the leader board after committing his 2nd Howard of the seasons yesterday. Congrats! For reference, The Howard is on the right sidebar of the blog.
*Now, time to give Jerad Eickhoff some freakin' run support!