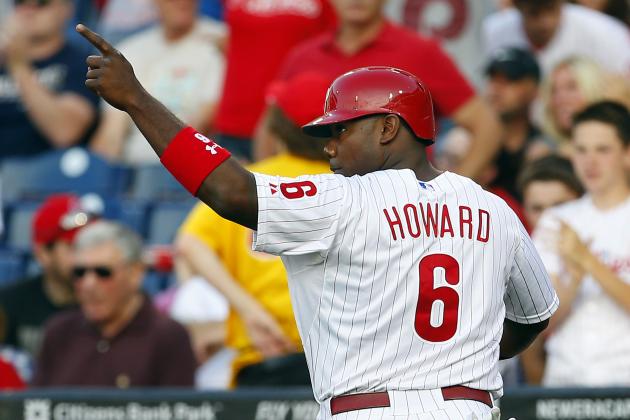 Guest Post By: Will Kay
It was no surprise to Philadelphia fans and sportswriters who cover major league baseball that the Phillies
officially ended
their 15-year relationship with slugger Ryan Howard by declining his $23 million option for next year. Instead, the Phillies will pay Howard $10 million sum to buy out the 2017 option and release him to seek employment elsewhere as a free agent. Howard, who will soon be 37, says he intends to play for another club in 2017. "I know there's more in the tank,'' he said recently.
Even with his sterling record with the Phillies, Howard might find it difficult to sign a guaranteed contract because of his age. His only option would then be to win a job in spring training or retirement.
Although he tied for the Phillies team lead in in 2016 with 25 home runs, his batting average declined to a career-low of only .196. This was a far cry from the young Ryan Howard who was named the National League MVP in 2006 when he hit 58 home runs, had 149 RBIs and posted a .313 batting average.
The slugger helped the Phillies win the World Series over the Tampa Bay Rays in 2008 when he hit three home runs and had six RBIs in Philadelphia's five-game victory. In 2009, Howard was named the National League Championship Series MVP in a five-game victory over the Los Angeles Dodgers. He batted .333 against the Dodgers with two home runs and eight RBIs.
Howard ranks second only behind Hall of Famer Mike Schmidt in homeruns for the Phillies with 382, and his total of 1,294 RBIs ranks him third in the club's history. Based on his early success, the three-time All-Star signed a five-year, $125MM extension with the Phillies in April of 2010. Unfortunately, the deal was disastrous for the team. From the point forward, Howard batted a meek .240 in 3,386 plate appearances. He did add another 160 more homers, but his declining offense, inability to run bases and lack of defense eventually caught up with his career. To the Phillies credit, they respected Howard
enough not to trade him
at any point for young talent.
One thing is certain about Ryan Howard: he leaves behind a lot of loyal fans who were sorry to see him leave. During a drawn-out "farewell tour" at the end of the 2016 season, Howard did his best to hold back his feelings. But he finally gave in to his emotions during a tribute to him before his final game with the Phillies. His voice cracked and the tears welled up as he spoke to the crowd of 36,935 fans at Citizens Bank Park. When Howard said that he was just a laid-back cat from St. Louis out here trying to play ball, the crowd roared their approval. They continued even louder win Howard added, "It's been fun, man, these last 12 years. You guys all made it possible."
A
bronze plaque
was then unveiled by Howard's son, Darian. It recognizes Howard's club record 58 homers in 2006 and will be placed in the spot where the 58th home run ball landed in the left field seats. Mike Schmidt was also on hand to make the presentation to Howard.