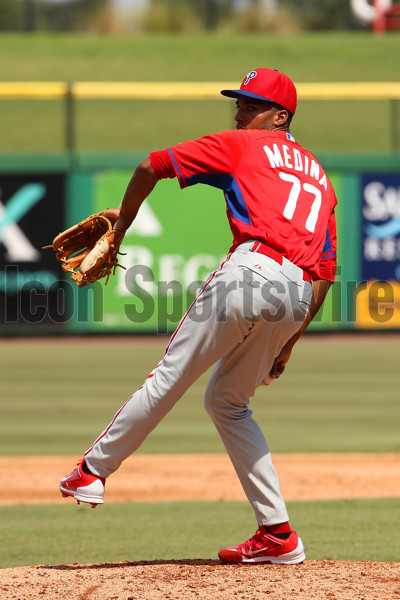 There is a 19 year old slicing through batters like a hot knife in butter in Low-A Williamsport. Adonis Medina has made 3 starts this season and has surrendered nary a run. 21 innings with a 0.00 ERA and 0.57 WHIP. This success shouldn't be too shocking though, as he's been nothing short of brilliant since his minor league career began. Since 2014, Adonis has amassed 92.2 innings over 24 appearances, 13 of them starts, and has a sparkling 1.85 ERA and 0.99 WHIP. He currently ranks 16th in MLB.com's Top 30 prospects for the Phillies. With continued excellence on the mound, he'll climb the charts by season's end.
Medina stands out already for his advanced feel for pitching that belies his age to go along with very encouraging steps forward stuff-wise. His fastball has jumped velocity wise, and he'll now throw it in the 90-95 mph range. He throws it with sink to get groundball outs and it's possible there's more in the tank to come. He spins a good breaking ball already and has feel for a changeup, both of which are inconsistent but have the chance to be at least Major League average. Medina throws strikes, but can refine his overall command to make his stuff play up even more. While the Phillies might be cautious with this teenager for the time being, his ability to execute on the mound could allow him to move a bit more quickly as he matures, with a future as a No. 3 type starter a possibility. ~MLB.com
Other Stuff:
*I've been thinking about what trade chips the Phillies have. Honestly, not much. At least nothing that will bring back a big enough haul to get excited about. Peter Bourjos is starting to hit and has long been known for his quality defense, so maybe a playoff contender will snatch him up for a middling prospect. Jeremy Hellickson is likely to be dealt as well, but he's nothing more than a back end of the rotation arm, so no minor league studs in return for him. The one player I'd love to see traded is Chooch. He's in the final year of his contract and has plenty of playoff experience, something teams covet when it comes to veterans, especially catchers. A team like the Astros could certainly benefit from his tutelage.
*Adam Morgan has been moved to the bullpen. I like the move. I'm not ready to give up on him as a MLB pitcher, but he needs to show some improvement, or he'll fall quickly down the depth chart that has plenty of youngsters waiting for the chance to be called up.