Here's your 2016 Philadelphia Phillies coaching staff...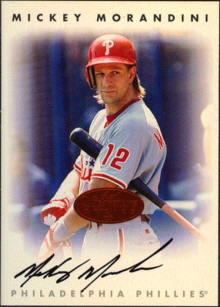 Pete Mackanin- Manager
Steve Henderson - Hitting Coach
Bob McClure - Pitching Coach
Mickey Morandini - 1st Base Coach
Juan Samuel - 3rd Base Coach
Larry Bowa - Bench Coach
Rick Kranitz - Bullpen Coach
Bob Stumpo - Bullpen Catcher
Jesus Tiamo - Bullpen Catcher
John McClaren - Catching Coach
Jorge Velandia - Assistant Coach
The newest addition is Morandini, whom some fans remember from the raucous rugrat team of 1993. He played for the Phillies from 1990-1997 and again in 2000. He's been coaching within the organization since 2011 and now gets the opportunity to work with high-priced "talent". Spoiler alert - the mullet is gone.
Autum = Pumpkin Beer:
Coronado Brewing Company
never ceases to impress me. They managed to make a less desirable style of beer into one that I actually enjoyed. Unlike most Americans, I am not a fan of pumpkin beers, but I'm clearly in the minority. Punk'in Drublic (clever name! and also a rocking NOFX album) is an outlier, I appreciate the nuances of this one compared to the masses. The honey smooths out the palate, rendering the spices not as biting or potent. Subtle pumpkin flavor along with allspice, cinnamon and nutmeg round out the flavor profile. Some caramel sweetness from the malt bill and even a bit of bittering hops for that West Coast flare. The 8% ABV helps too, as I find most pumpkin beers entirely too thin for the amount of spices they're brewed with.
Commercial Description - Here in the land of eternal sunshine, it can be difficult to differentiate between seasons. Palm tree fronds don't change color and fall to the sand, though the mercury does drop a few degrees, it's still as paradisaical as Southern California lore would have you believe. So, from now on, count on this imperial pumpkin ale heralding in the fall season. Brewed with brown sugar, honey, cinnamon, nutmeg, allspice and a heaping helping of would be jack-o-lanterns, Punk'In Drublic delivers autumn's trademark flavors along with a hint of West Coast character, whether enjoyed in a pumpkin patch or on the beach.
But wait, there's more. Coronado decided to pour Punk'in Drublic into bourbon barrels and allow the ale to age...genius! I like the fact that the base beer is still evident in aroma and flavor, and that barrel aging only added character to it, rather than mask its integrity. Spices, oak, bourbon/booze, and pumpkin for the win! A rare beer treat for sure, seek it out.