Toronto Blue Jays

(65-54) @

Philadelphia Phillies

(46-72)
Tuesday & Wednesday - 7:05
C -
Russell Martin
vs. Carlos Ruiz
1B -
Edwin Encarnacion
vs. Ryan Howard
2B - Ryan Goins vs.
Cesar Hernandez
SS -
Troy Tulowitzki
vs. Freddy Galvis
3B -
Josh Donaldson
vs. Maikel Franco
LF -
Ben Revere
vs. Cody Asche
CF - Kevin Pillar vs.
Odubel Herrera
RF -
Jose Bautista
vs. Domonic Brown
Bench -
Chris Colabello, Justin Smoak, Dioner Navarro, Cliff Pennington & Matt Hague
vs. Cameron Rupp, Chase Utley, Darin Ruf, Jeff Francoeur & Andres Blanco
*Blue Jays have an open roster spot that has yet to be filled as of publication of this post
R - Blue Jays 622 (1st) vs. Phillies 433 (30th)
AVG - Blue Jays .261 (7th) vs. Phillies ,252 (17th)
OPS - Blue Jays .769 (1st) vs. Phillies .680 (26th)
HR - Blue Jays 158 (2nd tied) vs. Phillies 85 (28th tied)
SB - Blue Jays 59 (16th tied) vs. Phillies 69 (10th tied)
SP1 -
RA Dickey
vs. Aaron Nola
SP2 -
Mark Buehrle
vs. Adam Morgan
CL - Roberto Osuna vs.
Ken Giles
RP -
Brett Cecil, LaTroy Hawkins, Liam Hendriks, Mark Lowe, Bo Schultz & Aaron Sanchez
vs. Luis Garcia, Jeanmar Gomez, Elvis Araujo, Hector Neris, Justin DeFratus, Adam Loewen & Cesar Jimenez
ERA - Blue Jays 3,76 (13th) vs. Phillies 4.70 (29th)
WHIP - Blue Jays 1.22 (10th) vs. Phillies 1,46 (29th)
K - Blue Jays 822 (25th) vs. Phillies 838 (23rd)
Run Differential - Blue Jays (+138) vs. Phillies (-153)
Founders Brewing Co.
- ReDANKulous Imperial Red India Pale Ale. This massively hopped brew is from their Backstage Series and was just released in August. Do yourself a favor and seek it out, it's worth it. It pours a reddish-amber with a thick semi-creamy lasting froth. Tropical fruits and pine billow from the bottle upon pouring into the glass. The best way to describe the aroma and flavor is "dank", which they fittingly placed in its name. It's tremendously floral scents have notes of berry, grapefruit, citrus, pine, and a bit earthiness. Really digging it, glad it came in a 750 ml bottle, so it was like drinking two. As Ludacris said, "Sticky, icky, icky."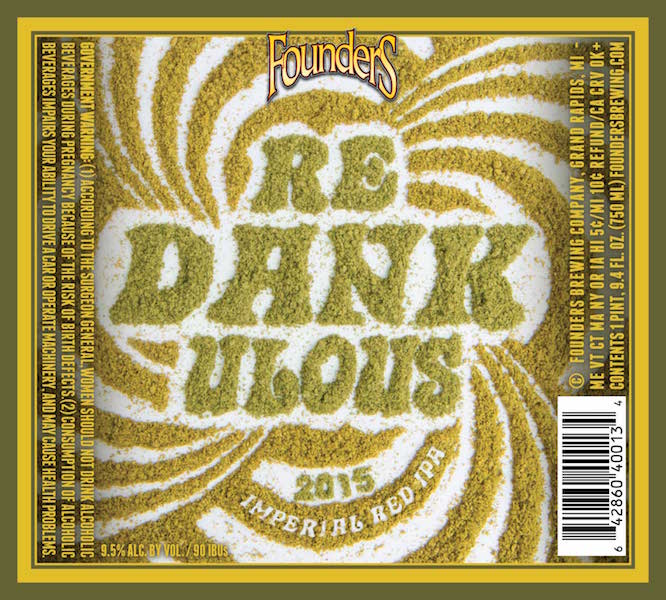 Commercial Description - reDANKulous Imperial Red IPA is a no frills, bold 9.5% ABV India Pale Ale. It pours a pleasing burnt amber with some sweetness due to the Caramalt and roasted barley used in the malt bill. But hops are the true headliner in this elaborate sensory experience. The spicy, piney, tropical complexities of Chinook, Mosaic and Simcoe hops hit you right away with their dank aroma—and they stick around. Take a sip to have your palate simultaneously walloped and caressed in all the right places. Combined, the hops take the beer to 90 IBUs. It's not just ridiculous. It's reDANKulous.