Philadelphia Phillies

(22-39, 5th) @

Pittsburgh Pirates

(32-27, 3rd)
Games Times:
Friday, 7:05
Saturday, 4:05
Sunday, 1:35
Offense:
C -
Francisco Cervelli
vs. Carlos Ruiz
1B -
Pedro Alvarez
vs. Ryan Howard
2B -
Neil Walker
vs. Chase Utley
SS - Jody Mercer vs.
Freddy Galvis
3B - Josh Harrison vs.
Maikel Franco
LF -
Starling Marte
vs. Cody Asche
CF -
Andrew McCutchen
vs. Odubel Herrera
RF -
Gregory Polanco
vs. Ben Revere
Bench -
Corey Hart, Sean Rodriguez, Chris Stewart, Jose Tabata & Jung Ho Kang
vs. Cameron Rupp, Andres Blanco, Darin Ruf, Jeff Francoeur & Cesar Hernandez
R - Pirates 244 vs. Phillies 194
AVG - Pirates .254 vs. Phillies .239
OPS - Pirates .696 vs. Phillies .645
HR - Pirates 50 vs. Phillies 36
SB - Pirates 44 vs. Phillies 28
Pitching:
SP1 -
Jeff Locke
vs. *Kevin Correia
SP2 -
Garrit Cole
vs. Sean O'Sullivan
SP3 -
AJ Burnett
vs. Cole Hamels
CL - Mark Melancon vs.
Jonathan Papelbon
RP -
Tony Watson, Antonio Bastardo, Rob Scahill, Arquimedes Caminero, Jared Hughes & Vance Worley
vs. Luis Garcia, Ken Giles, Justin DeFratus, Jeanmar Gomez, Dustin McGowan & Elvis Araujo
*Correia officially become a Phucco when he fires his first pitch with the Phils
ERA - Pirates 2.97 vs. Phillies 4.30
WHIP - Pirates 1.23 vs. Phillies 1.41
K - Pirates 487 vs. Phillies 425
Run Differential - Pirates (+42) vs. Phillies (-88)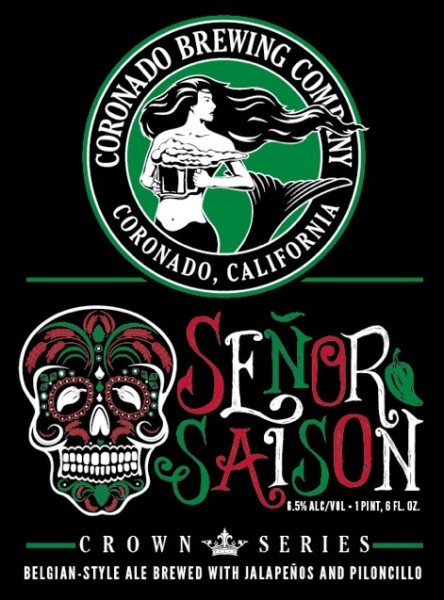 What To Imbibe On:
Coronado Brewing Co.
- Senor Saison. This is a brand new specialty release, that is part of their Crown Series, so seek it out. It comes in a bomber (22 oz.) and weighs in with a 6.5% ABV. It's the most unique saison I've ever had. Golden pour with tons of carbonation and 1-finger white head. The jalapeno presence is noticeable in the nose and carries over to into the flavor, but isn't spicy, just a nice peppery taste that lingers. A unexpected slight sweetness helps counterbalance the pepper. There are some fruit esters, hops, and a faint spruce-like note. Quite enjoyable.
Commercial Description - Just south of our brewery, Baja California's burgeoning spirit of craft brewing reminds us a lot of our own with Mexican brewers looking to make a name for their region. We've enjoyed keeping an eye on the exciting new beers coming out of Tijuana, Mexicali, Ensenada and Valle de Guadalupe, and celebrate the rise of craft beer south of the border with this reimagined farmhouse ale. Brewed with agave nectar and jalapeño peppers, it combines a touch of spice with fruity esters derived from Belgian yeast. Like the brews of our cross-border amigos, this cerveza takes craft to new and interesting places.