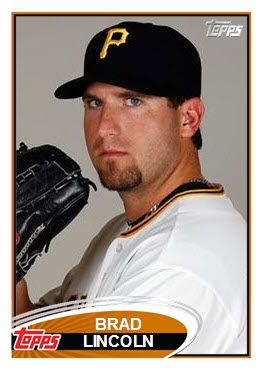 With the addition of new backup catcher Wil Nieves, Amaro wasted no time in swapping the unneeded Erik Kratz for relief help. That "help" comes in the form of ex-Pirate, Brad Lincoln.
Lincoln was with the Toronto Blue Jays, but now becomes the newest Phucco (Phillies + Bucco = Phucco, for those of you not in the know). He is a 28 year old righty that owns a 4.66 ERA/1.39 WHIP over 4 seasons. The former 1st round pick has developed control issues (6.3 BB/9 IP last season), but still has upside. He's also 9-38 as a batter, so that makes him a better pinch hitting option than Michael Martinez.
Going to Canada is a package of Kratz and minor league pitcher Rob Rasmussen (acquired in the Michael Young trade with the Dodgers). Kratz , also a Phucco, spent the past 3 seasons with the Phillies and leaves with a .230/.727 AVG/OPS and 18 HR.