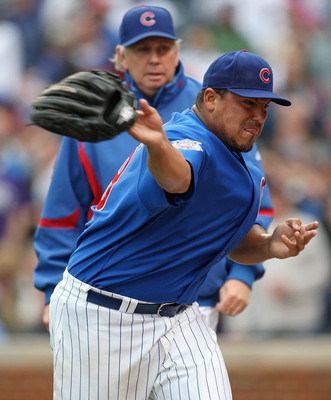 With Lannan and Halladay on the DL and the Phillies in need of starting pitching, Amaro inked Carlos Zambrano to a minor league deal, that includes and opt-out clause of July 1st. Big Z's temperament has been well documented, whether it be fighting with teammates, coaching staff, or umpires, he's a hothead. It's a low risk, high reward signing, that doesn't bother me as long as he doesn't come to fisticuffs with Utley by the 3rd inning of his first start. It may be hard to believe, but he's still only 31 years old and has been a good pitcher for most of his career. Zambrano owns a lifetime 132-91 record over 1959 innings with 3.66 ERA and 1.33 WHIP with the Cubs and Marlins. He's a helluva hitting pitcher too- .238/.636 with 75 R, 24 HR, and 71 RBI.
Terrible Trio:
This cannot be overstated- Raul Valdes, Jeremy Horst, and Chard Durbin suck. That is not mean, that is a fact. When they come into a game, the losing score only becomes worse. It's Charlie Manuel's version of the white flag. As soon as he motions to the bullpen for any of the terrible trio, you know it's game over...for the Phillies.
2013 Stats:
Valdes - 7.65 ERA, 1.55 WHIP, 5 HR
Horst - 5.29 ERA, 1.65 WHIP, 2 HR
Durbin -7.30 ERA, 1.86 WHIP, 3 HR
Collectively - 49 IP, 10 HR, 6.80 ERA, 1.67 WHIP.
Amaro, do something! Please!
With the way the Phillies have suffered through injures over the past few seasons, they might want to invest in some
Better Braces
for the 25 man roster.