Phillies (6-6) at Cincinnati Reds (5-7)
Matchups:
Monday - 7:00 - Cliff Lee v. Bronson Arroyo
Tuesday - 7:10 - Oh No, It's KK v. Homer Bailey
Wednesday - 7:00 - John Lannan v. Mike Leake
Pitching:
The Phils will miss the Reds' two top starters, Mat Latos (3.26 ERA) and Johnny Cueto (2.60 ERA). Instead, they'll see the three mediocre arms listed above. All three have ERA's above 5.25.
If the Phils are going to score runs, they need to do it early, as the back-end of the Reds bullpen is fierce, especially considering the lefty-heavy middle of the Phillies lineup. Sean Marshall, Manny Parra, and closer Aroldis Chapman all come from the left side. Add in setup man Sam LeCure and the four relievers have struck out 17 and have given up only 2 runs in 20 innings.
Batting:
The Phils should be able to score some runs this series, and they'll need them because the Reds lineup is full of hitters. Jay Bruce and Joey Votto have struggled early on and only have a single homer between the two of them. Yet, the Reds have 16 on the season. Shin-soo Choo, Todd Frazer, Brandon Phillips and Zach Cozart have provided the extra power.
Homer Baily:
Anytime Homer Bailey pitches, I feel the need to re-publish this little cartoon I created a few years ago.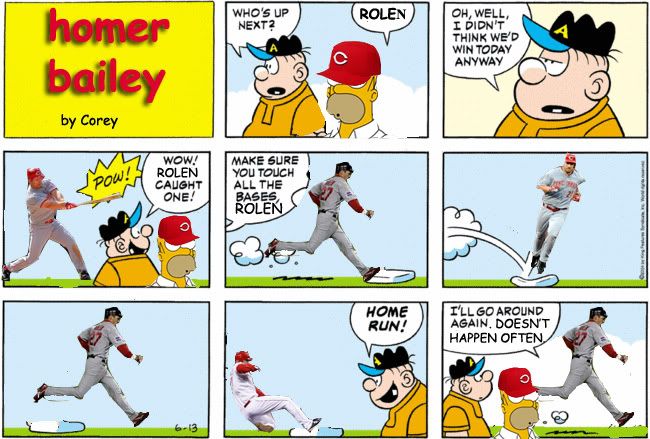 Prediction:
The way he's been throwing, I can't go against Cliff Lee in the first game. And I think the Phils can sneak away with one of the last two, so I'll say the Phils win another series and return home above .500.