Kevin Frandsen's bat needs to be in the Phillies lineup on a semi-regular basis. Since joining the Phils he's done nothing but hit- .345/.851 in 57 games, including that bases clearing game winning double in the 9th last night. Yes, that is a small sample size, but until he proves otherwise he's a hot commodity. For the record, he's always hit in the minors too- .310/.802 over 8 seasons.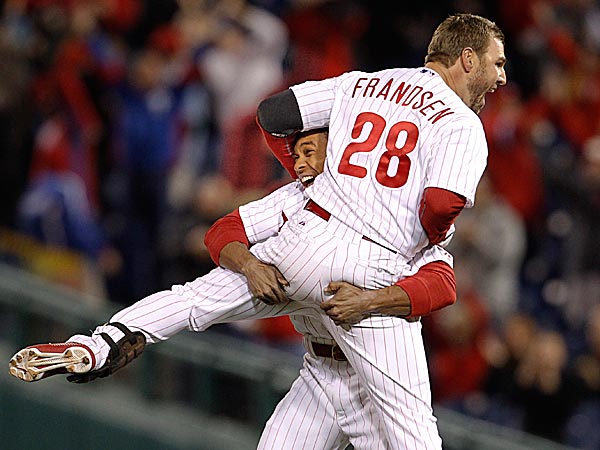 (Full-on man-love!!!)
The infield is set with Howard, Utley, Rollins, and Young. Revere and Brown are regulars in the outfield. Currently Mayberry and Nix are splitting right field duties, and doing poorly. Suggestion- move Dom back to RF and let Frandsen get some playing time in LF. He's played there 11 games in the Majors, so instead of trying Pete Orr out in the outfield during Spring Training, they should have been trotting Fransden out there. Poor foresight by Amaro/Manuel.
Of course, they also could have just let Frandsen be the starting 3rd baseman this season (his defense is actually better than M. Young's there). The money saved could have been used to sign or trade for an outfielder instead. But what do I know, I only want to be a GM.