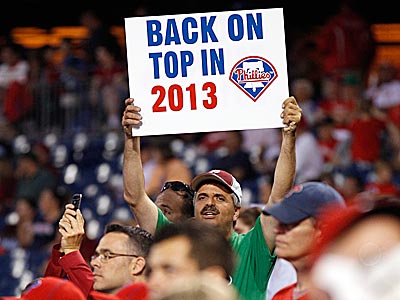 Lineup:
1. Ben Revere/CF
2. Michael Young/3B
3. Chase Utley/2B
4. Ryan Howard/1B
5. Carlos Ruiz/C
6. Jimmy Rollins/SS
7. John Mayberry/RF
8. Domonic Brown/LF
Bench:
Erik Kratz/C, Kevin Frandsen/UTL, Freddy Galvis/UTL, Darin Ruf/OF/1B, and Laynce Nix/OF.
*Humberto Quintero will serve as 2nd catcher while Chooch serves 25-game suspension.
*Nix and Ruf would likely platoon with Mayberry and Brown.
Rotation:
1. Cole Hamels
2. Roy Halladay
3. Cliff Lee
4. Kyle Kendrick
5. Tyler Cloyd
Bullpen:
Jonathan Papelbon, Antonio Bastardo, Phillippe Aumont, Jeremy Horst, Just DeFratus, Michael Stutes, and Raul Valdes.
Thoughts:
The Phillies selected speedy outfielder Ender Inciarte in the Rule 5 draft, but he's not played above Single-A, so him making the 25-man roster is an extreme long shot. The lineup is void of power aside from Howard, unless Ruf is able to continue working his magic into next season. Amaro is still searching for a set-up man, corner outfielder, and now possibly a back of the rotation pitcher.
Power on the free agent market doesn't really exist outside of Josh Hamilton and Nick Swisher. Each will be expensive and that's something that Amaro might not be able to do. Reliable 8th inning relievers have been snatched up already, with only Mike Adams remaining, and he's coming off of surgery.
Rotation options aren't that enticing either because of the price they'll cost. Edwin Jackson, Anibal Sanchez, Ryan Dempster, Kyle Lohse, and Shaun Marcum are the big names remaining and likely out of the Phils price range. After all, far less SP like Jeremy Guthrie (3 YR/$25M) and Joe Blanton (2 YR/$15M) stuck gold.
Jair Jurrjens, Chris Young, or Jeff Karstens would be worth a 1 year investment on a low base salary with innings pitched incentives to challenge Cloyd for the 5th spot in the rotation.
Jon Rauch, Matt Capps, LaTroy Hawkins, Matt Lindstrom, Brandon Lyon, Chad Durbin, and Scott Atchinson are free agent relievers that might be worth a 1 year deal on a low base salary with incentives for appearances (because that would mean they were good enough to stick around and be used, unlike Chad Qualls).
As you can see, Ruben still has work to do.