Monday, 7:05 - Roy Halladay v. Mike Leake
Tuesday, 7:05 -Cliff Lee v. Homer Bailey
Wednesday, 7:05 - The Vanimal v. Bronson Arroyo
Thursday, 7:05 - Cole Hamels v. John Cueto
Reds Batting: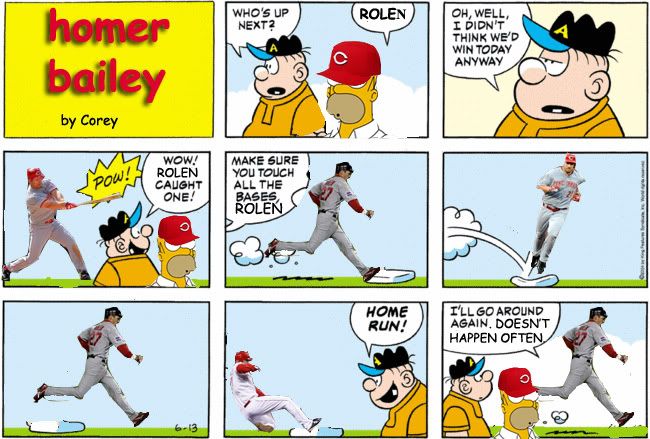 - Jay Bruce is .406-4-9 in his last 8 games
- Scott Rolen is hitting .387 in August but because of new/old back problems, should only play in two or three games this series.
- Joey Votto has been out of the lineup since the middle of July and isn't expected back for this series.
Reds Pitching:
- Aroldis Chapman still throws 100 MPH and has a 1.37 ERA with 29 saves. They signed Ryan Madson to close why?
- After Cueto and Matt Latos (who won't pitch this series), the strength of the staff lies in the bullpen. Chapman, Alfredo Simon, Logan Ondrusek, Jose Arredondo, JJ Hoover, Sam LeCure and Sean Marshall all have ERAs under 3.25. Basically, the Phils have to score in the first 6 innings...
What We're Drinking:
Weyerbacher's Last Chance IPA
- Fans of American IPAs will not be disappointed by this offering from from the Easton brewery. On their website, they describe Last Chance as a "full-flavored hop assault delightfully lacking in balance" because of it's hop domination. I had a few of these yesterday while I was watching KK mow down the Brewers (yeah, that happened...) and while this beer is definitely hop heavy, I found it more enjoyable than other similar styled beers. For me, most hop prominent beers are "one and done" before I move on to ales, pilsners or "yellow fizzies." Typically they are high in alcohol and the significant bitterness becomes off-putting after one or two. But Last Chance is only 5.9% ABV, while potent, is not intolerable when drank at a reasonable pace. And frankly, I didn't find the hop bitterness to be overwhelming. I did find that I enjoyed the beer more chilled but not ice cold. Five to ten minutes on the bar top before opening makes Last Chance perfect.
And if the Last Chance doesn't already sound good, consider that a portion of the proceeds from all sales of Last Chance go to local animal shelters. The beer was only released a few months ago but Weyerbacher has already donated over $6000 to shelters in Easton, Boyertown and Whitehall. Have a glass, make a difference!
Prediction:
Phils split. They have the advantage in the matchups the first two games, but given Lee's luck, they'll probably lose that one...