I'm going to stray away from the Phillies business today. I hope everyone can handle not discussing the greatness of the Fightins for one day. Instead, I'm just going to point out a few things I saw in the last few days that kind of made me angry.
1) I was perusing the vast wasteland that is Facebook and I came across this post at the official page of the New York Yankees.
Queuing up a clip of one player striking out three times and posting it on a social network is probably an unnecessary piece of propaganda, but I wouldn't have batted an eye if it wasn't for that tacky headline. Pettitte takes Harper 'to school?' Really? Poor, out-dated trash talk on Facebook? I thought the great Yankees would be above that sort of classlessness.
So, I think the Nationals should respond. They should post the exact same video with the title, "One of these players is 19. The other is an admitted steroid user who contributed to destroying the integrity of baseball by jamming needles into his buttock and spends time between starts testifying to grand juries because his friends are also lying cheats. Enjoy."
2) Speaking of classless, lying, cheaters, Roger Clemens was acquitted of perjury charges earlier this week. He stood on the steps of the courthouse and cried while people applauded. Wow.
Hey Roger, congrats on not going to jail but this verdict doesn't change anything else. You're still a adulterous, slimeball, steroid junky cheat who
just might be a pedophile
also.
And what the hell were those jokers applauding? I mean, I'm fine that Roger Clemens isn't going to jail. What would that prove? How would we be safer with him locked up? This whole thing is a joke and the government employees responsible for this taxpayer funded circus should be fired (fire a government employee! that's my best joke of the year...). But to stand out there and applaud a man with little to no redeeming qualities because he was acquitted of something he was obviously guilty of is a little ridiculous.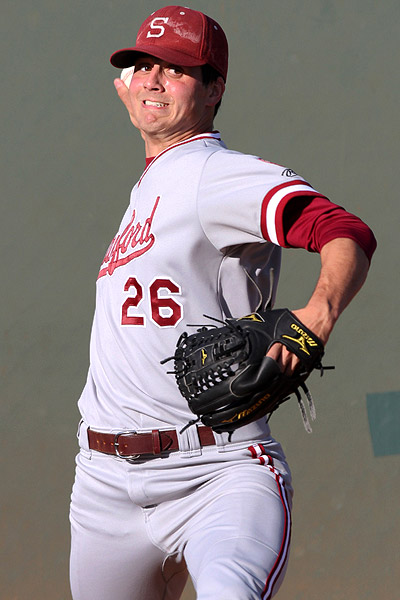 3) Mark Appel might be an ass.
The Pirates selected the Stanford righty with the 8th pick in this year's draft. Some predicted he may go first overall but he slipped to the Buccos at 8. Depending on who you believe, this was either because of 'sign-ability' issues or that he just didn't have 1st overall pick talent.
Directly after the draft, Appel couldn't find a few minutes to take a conference call with Pirate media, citing something about school and preparation for the NCAA playoffs. I was going to call him out for being an ass, knowing that a college student should be able to squeeze a 1/2 hour phone call into his day, but I gave him the benefit of the doubt. I think I was wrong.
In the last few days, a report from Jayson Stark notes that one executive responded with "I don't see how," when asked if the Pirates will get him signed.
Now, there's still time. Maybe he will sign. But if he doesn't, he's an ass. An ass who could only throw 55 strike out of 95 pitches in his
first and only start in the NCAA playoffs
. Just think if he would have taken that conference call, he might have lasted only two terrible innings instead of four.
And as for Major League Baseball's role in this, didn't they enact new draft rules that limits what teams can spend through the first ten rounds? Wasn't that supposed to help this sort of thing? If Appel doesn't sign with the Pirates, he should have to re-enter the draft next season and no matter where he is drafted, he shouldn't be allowed to get a signing bonus bigger than the Pirates offer him this year. If he doesn't want to play in Pittsburgh, that's fine, but he shouldn't be able to make money by screwing them over.