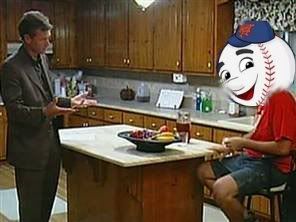 Phillies (14-15) v. New York Metropolitans (15-13)
Pitching Matchups:
Monday, 7:00 - Roy Halladay v. Jon Niese
Tuesday, 7:05 - Joe Blanton v. Miguel Batista
Wednesday, 7:05 - Cliff Lee v. Dillon Gee
Muts Batting:
Runs - 106 (20th)
Avg - .263 (6th)
Slug - .375 (22th)
Muts Pitching:
ERA - 4.35 (24th)
WHIP - 1.40 (24th)
BAA - .264 (22nd)
Their Freddy Galvis:
Ike Davis -Ike becomes the first person to make "TFG" twice this season. He started the season 1-20 before the first series with the Phillies. He's now raised that average to .168.
Their Danys Baez:
Manny Acosta -Manny is sporting a 9.69 ERA. He has given up 11 runs over his last 3 2/3 innings. Last year, he gave up 18 runs, the same number he's given up already in 2012. Manager Terry Collins said, "He's really trying too hard." Well, as long as he's trying, right Mets fans?
Their JD Drew:
All of them. It's the Mets.
Magic Number Watch:
The Phillies magic number is hiding in shame because the Mets have a better record than our Fightins...
Prediction:
Sweep. Lock it up. Doc bounces back. Joe goes nine again. And Cliff Lee makes a return from the DL with a gem.
--------------------------------------------
Hamels Hits Harper
Cole Hamels admitted what we all already knew -
he hit Bryce Harper on purpose
.
Hamels talked about "the way baseball is"and that he was "trying to continue the old baseball." I know I'm a Phillies fans so I should back Hamels. And I'm something of a baseball traditionalist (ie the DH can go to hell) so this is something I should respect. But I don't I think this is a bunch of stupid bull dung.
Not every tradition in baseball is good. You know, "old baseball" has a long and storied tradition of racism and segregation. "Old baseball" has connections to gambling, crime, and drugs (some even performance enhancing). Want to continue those traditions? Now, before some of you blow a gasket due to me comparing plunking some punk with a fastball to these terrible things, understand that I'm merely pointing out some "traditions" do and should die a rightful death because they may be unnecessary or wrong.
You want to hit a guy because he's crowding the plate. Fine. You want to plunk a guy because he stared down a homer or committed another "grandstanding" act. Fine. Did somebody go into second spikes up or did a pitcher hit one of your young players for no reason at all? Great, bean the fool. But to hit a guy as an initiation to the "good ol' boys club." That's just silly.
And why is it silly? Because now Kyle Kendrick may have to make another start because Hamels could get a five game suspension.
And whats even sillier is admitting that he hit him on purpose! What's the point of that? Would it have been too difficult to stick to the "tradition" of saying "One just got away from me"?
So thanks Cole, your bravado and stalwart traditionalist views may expose me to another 5 innings of KK. Yeah, thanks a lot.
Werth
Broken wrist.
That sucks.