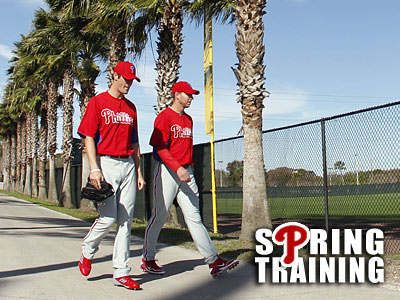 *Roy Halladay gets the Season Opener (April 5th in Pittsburgh) and Cole Hamels gets the Home Opener (April 9th). This means Cole is technically the 4th starter, as The Vanimal slots in ahead of him, but this is merely a formality.
*Chooch probably wishes the season would begin today. He's currently batting .481/1.295 in 10 Grapefruit League games.
*With Utley down and Michael Martinez's broken foot blessing in disguise, it appears that Freddy Galvis will be the starting 2nd baseman and Pete Orr the utility infielder to begin the season. Galvis' bat is as bad as Mini-Mart's, so don't expect any good to come of this.
*Battle for 5th outfielder is between Juan Pierre, Scott Podsednik, and Luis Montanez. Pods has been great (.366/.923 with 5 SB and no caught stealing). Montanez is a right-handed batter, which is the advantage he has over the other two and is hitting .361/.912. Pierre on the other hand has been caught stealing more than he's been successful (2 SB/3 CS) and is only hitting .275/.656.
*We here at WSBGMs believe that Brian Schneider was done as a useful MLB capable backup catcher last season and that re-signing him was a huge mistake. His .222/.465 spring is doing nothing to erase those doubts. Erik Kratz anyone?
*Lefties Joe Savery and Jake Diekman have been fantastic this spring. Each have 0.00 ERA and WHIPs below 1. It'll be interesting to see which one the Phils choose to round out the bullpen, if either.
*Poor Ryan Madson. Mad Dog's season and possible career as a closer came to an abrupt end yesterday when it was a announced he needs Tommy John surgery. Thoughts on this- 1) Phillies dodged a bullet & 2) Scott Boras is a real dickbag for not getting him a minimum of 3 guaranteed years and $27M. Greed is bad.
Spring Team Stats:
.280/.759 puts them in the middle of the pack (12th/13th), but 98 runs scored towards the bottom (19th).
3.86 ERA/1.26 WHIP with a typically great BB:K (48:180 in 205.1 IP). That's the least amount of walks allowed, and the 4th highest amount of strikeouts totaled.