Cuts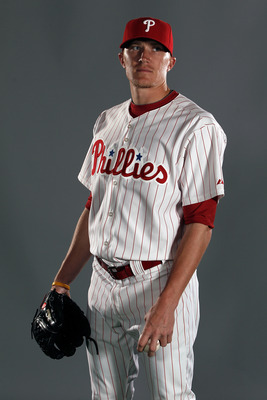 The Phils sent Brian Sanches, Scott Elarton and lefty reliever Jake Diekman down to the farm.
The first two guys I could give two shakes about, because I don't follow the FeHams closely and we are unlikely to see them in Philly anytime soon. Diekman, on the other hand, might be back in town sooner rather than later. As meaningless as Spring Training stats are, Diekman still gets some dap for striking out 9 batters in only 5 innings. That's some serious loogy potential.
I guess this almost assures Joe Savery of a spot because the Phils can't go into the season with only one lefty (El Bastardo) in the bullpen. Can they?
A Useful Lidge
ESPN.com is reporting
that Nationals closer Drew Storen may not be ready for opening day and his replacement is none other than
the mole on Brad Lidge's face
Brad Lidge himself.
Awesome.
Don't get me wrong, I love Lidge. But I'd also rather see him in the 9th inning down a run than Storen or Tyler Clippard.
Lidge could have a 1.0 WAR... for the Phils.