Continuing the "Charlie in the Movies" theme with his starring role in Forrest Gump...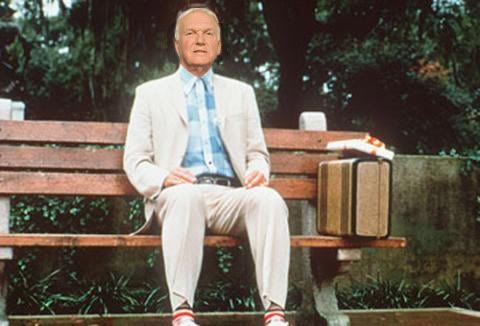 Pirates in the News
Consistent with the Pittsburgh Pirates of the last 20 year, their president is facing
four charges related to a DUI
arrest. Frank Coonelly describes his "actions," specifically getting liquored up and driving around in car, as "irresponsible and wrong."
We here at WSBGMs in no way condone driving while intoxicated. However, I can't help but point out that the managers of the 2011 World Series participants both had run-ins with the law related to substance. LaRussa had a rather famous DUI and Ron Washington tested positive for cocaine. So, in other words, get to work Clint Hurdle....
Pujols- Classy?
The California Angels recently promised Albert Pujols $250 million to play baseball. You'd think they could market him however they want. Not so fast, muchacho.
Pujols is not thrilled that the
Angels have put up billboards
of him and the words "El Hombre." (That means "The Man" for those of you who took French.)
Apparently, while in St. Louis he did not want the the Cardinals to use the nickname out of respect for Stan "The Man" Musial. This makes sense to me. I appreciate players giving respect to those that came before them, especially a WWII veteran and Medal of Freedom winner. But news flash Albert, you aren't in Missouri anymore. How many people in LA will relate Albert "El Hombre" Pujols, the Angels first baseman, to Stan Musial? I'll take it one step further. How many people in LA even know Stan Musial?
By refuting the nickname and asking the Cardinals to not use this most obvious marketing campaign, he came across as humble and classy. Now, he looks like at chump pandering to a fanbase that he walked away from for a few extra dollars. Own your greed, Albert. And take your $250 million and let the Angels market you the way they want.
In the video associated with the ESPN story linked above, Mike Greenberg (gag...) asks, "Is Pujols a class act or what?" I'm going with "what."
Speaking of Drugs...
Ronald Belisario of the Dodgers will serve a 25 game suspension because
he tested positive for cocaine
. Okay, I understand that people do drugs. This isn't surprising. What is surprising is what Belisario said after he got caught.
"I don't have a problem with any drugs."
Classic case of denial. Maybe a support group with Josh Hamilton could be helpful. But then he said some even more ridiculous things.The article says that Belisario "
only used the drug once, but doesn't remember when he tried it, when he tested positive or who administered the test
."
Could any of you middle aged readers out there imagine trying cocaine for the first time, then randomly taking a drug test, failing said drug test, then completely forgetting all of the aforementioned events? Then could you imagine trying to sell this story to your employer?