Yeah, I know, it's Thursday...
So I never did my "Charlie In The Movies" series this off-season. Instead, I'm going to just throw one or two in every week during this cluster-fuqua. Today, entry, "The Shining." Heeeeere's Fuqua!!!!!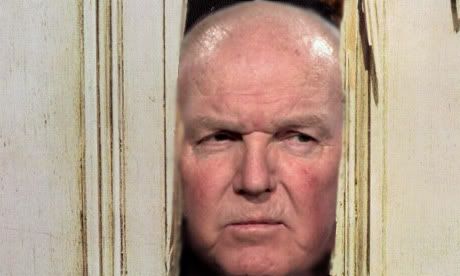 So Long, Mad Dog
Maybe it's because the Phillies have already replaced him with a better closer, but I don't think I'll miss Ryan Madson. For no good reason, I never really liked Madson. Maybe I never got over attending his April 20th, 2006 start against the Nationals when he gave up 9 runs and only got 3 outs. Maybe I think kicking chairs and missing a few months is really stupid. Maybe I'm prejudiced against the change-up.Whatever the reason, I hope Mad Dog likes pitching half of his games in [basically] Kentucky.
Madson got a one year deal worth $6 million, with an $11 million option / $2.5 million buy out for next year, making the deal worth at least $8.5 million. You have to think he was expecting more money, but after the big boys signed, the market for non-elite closers was weaker than some predicted. However, if Madson can put up numbers again like he did last season (and given his performance over the last few years, there's no reason he won't) he could get his big multi-year deal next offseason.
The Phils get two picks for Madson, which is nice.
More after the jump...
Booze and Music
I found a great bang-for-your-buck stout over the holidays. For only $9 I got a sixer of Oatmeal Milk Stout from River Horse Brewing. In it's class, I find this brew quite average. It's a little more bitter than you'd expect and the chocolate flavor is a little too prominent. But it checks in at a potent 6.7% ABV and at that price, it's well worth grabbing a 6-pack.
Gaslight Anthem lead man Brian Fallon has a side project band called The Horrible Crowes. They released and album in September called "Elsie." Here's a live performance for your enjoyment.
Free JC Movement Finally Reaches Conclusion
Remember that 50 game PED suspension JC Romero got in 2009? Remember that Romero said that he tested positive because of a tainted over-the-counter supplement? Well, Romero got his day in court and it looks like he won, reaching a settlement with the manufacturer.
"I didn't cheat,"
said Romero
. "Some other people were being negligent and I had to pay the price. Some fans questioned my integrity. Now there is some closure and I can say the 2008 World Series was legit."
He also said that "justice is served" and that the resolution "gives closure to the fans in (Philadelphia)."
Good for JC. It's obvious that he didn't purposely cheat and this company cost Romero 50 games, a pile of money and clean name. I'm glad he got at least a little retribution.
I must ask though, were there any fans in Philadelphia that needed "closure?" That's a bit of a stretch, JC.
Delay of Game?
When football refs blow the whistle and stop the game just as the offensive team is snapping the ball, then call a delay of game penalty, am I the only one who finds that a bit hypocritical and totally counterproductive?