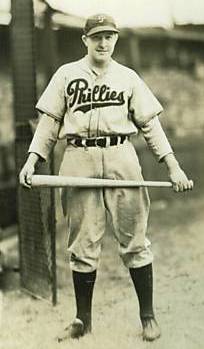 I thought I was witnessing history. I thought something special was happening. I thought John Bowker was the worst hitter, statistically, to ever play for the Phillies. But no, that would be Fred Tauby.
Bowker is 0-12. That's an average of .000. But he's not the first player to go hitless as a Phillie.
In 1906 Ches Crist went 0-11 in his only season of professional baseball.
In 1938 Ray Stoviak went 0-10 in his only season of professional baseball.
But the benchmark was set one year before Stoviak stunk up the park, when Fred Tauby went 0-20.
*Technically the worst Phillies hitter ever is Jim Hearn, who was a career 0-33 over three season. But he was a pitcher so he doesn't count.
*Check out
this boxscore
. Tauby never got a hit as a Phillie but once went 0-1 with 2 runs and 3 RBI. Obiously the guy had Ryan Howard-like ability to rack up RBI without actually hitting very much. I keed, I keed.