Philadelphia Phillies (77-40) vs Washington Nationals (56-61)
Season Series:
Philles 6-3 Gnats
Pitching Matchups:
Friday, 7:05 - Cole Hamels v. Livan Hernandez
Saturday, 7:05 - Roy Oswalt v. John Lannan
Sunday, 1:35 - Roy Halladay v. Wang from
Caddyshack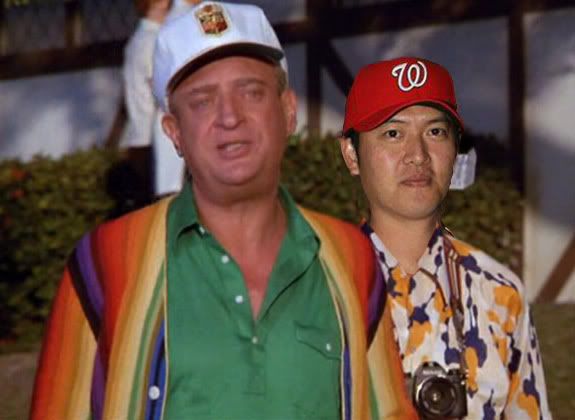 Senators Batting:
Runs - 457 (22th)
AVG - .240 (28th)
OBP - .309 (26th)
SLG - .379 (23rd)
Senators Pitching:
ERA - 3.76 (11th)
WHIP - 1.33 (20th)
BAA - .261 (23rd)
Their Michael Martinez:
Jayson Werth. Just kidding, but his .227-14-44 line is pretty pathetic given his mega-contract. The award goes to currently injured first basemen Adam LaRoche and his .172 average and .546 OPS.
Their Danys Baez:
Sean Burnett. He is second on the team in appearances but is near the bottom in ERA (4.68). The two previous seasons Burnett was been terrific (3.12, 2.14 ERA respectively), but he's been horrible in 2011 and the Nationals don't have anything better.
Next Big Thing Update:
Bryce Harper - .250-2-10-.696 and 1 ejections [see below] in AA Harrisburg.
Stephen Strasburg - 1.2 IP, 1 R, 4 K at LoA Hagerstown.
What We're Drinking:
Corey - Keystone Light. Always smooth.
Carson - nothing special, probably just water and Diet Coke with lime.
Prediction:
Sweeeeeeeeeeeeep!!!