Philadelphia Phillies (80-42) at Washington Nationals (59-63)
Season Series:
Phillies 7-4 Gnats
Pitching Matchups:
Friday, 7:05 - Roy Oswalt v. Livan Hernandez
Saturday, 7:05 - Kyle Kendrick v. John Lannan
Sunday, 1:35 - Roy Halladay v. Wang from Caddyshack
Wang didn't get to pitch last time b/c of the rain delay, so I'm using the picture...again.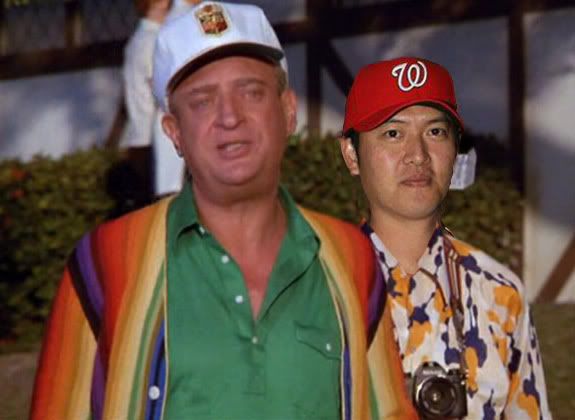 [Side note: Every time I write or speak the word "again," I
can't help but think of this clip.
Take a listen. Skip to 4:50, that's where the real rant begins. Skip to 8:10 to hear the "again" part."]
Generals Batting:
Runs - 474 (24th)
AVG - .240 (27th)
OBP - .309 (25th)
SLG - .378 (22nd)
Generals Pitching:
ERA - 3.70 (12th)
WHIP - 1.33 (20th)
BAA - .260 (20th)
What We're Listening Too
Corey - I have a 3+ hour drive to Pittsburgh today to watch the Buccos play the Reds so the ol' iPod will get a good run out. For a long drive, or anytime for that matter, I love listening to "All In" by San Francisco
rock/punk band Nothington
. I can't recommend this band enough. I once saw them described as a mix of Leatherface, Social Distortion and Tom Waits and if you don't think that sounds great, then you suck. [Of course, once I'm in da 'Burgh, I'll be jamming to the great Pittsburgh rocker
Donnie Iris' "Ah Leah."
]
Carson - Weezer's Pinkerton. I played my original cd of Pinkerton so much that it wore out (burned courtesy of Corey), so I bought it this time around. Weezer is my favorite band and Pinkerton is by far their best album. I sing/yell the lyrics while jamming out with my imaginary band in my car while listening to this amazing album. For people that only know "new" Weezer, they should go back and listen to this.
Their Michael Martinez:
Still Adam LaRoche.
Their Danys Baez:
Still Sean Burnett.
What We're Drinking:
Corey - Like I said, I'm off to Pittsburgh so I'll be drinking some Iron City beer and "pop."
Carson - Appalachian Brewing Company's Double IPA sampler. ABC brewed up some 2XIPA's showcasing various hops (Summit, Cascade, and Nugget). Tasty!!!
Magic Number:


Prediction:
Sweeeeeeeeeeeeep!!!