Buildings stand the test of time because of their foundation. The Phillies foundation is their minor league system, and they've been successfully structuring each level (top 5 affiliates have winning records). Here's a quick rundown of the Phils minor league teams...
Lehigh Valley Iron Pigs:
63-48, 1st Place
The offense just got a boost from the addition of Domonic Brown, who is learning to play leftfield. Outfielder Rich Thompson continues to burn up the base paths (33 SB) and score runs (62 R) from the leadoff spot in the lineup. Outfielder Brandon Moss has clubbed 20 homeruns and is making a case for a September call-up. Catcher Erik Kratz (.283/.850, 13 HR) is putting himself inline for possible backup duties to Chooch next season.
Starting pitching for the FeHams is pretty bad, but the bullpen has been superb. Michael Schwimer leads the crew with a 7-1 record in 42 G, 61.1 IP, with 9 SV, 79 K, and an outstanding 1.76/1.04 ERA/WHIP. Drew Carpenter (5-0,1.54 ERA), Scott Mathieson (2.85 ERA), Phillipe Aumont (2.70 ERA), Les Walrond (1.23 ERA), and Mike Zagurski (3-0, 10 SV, 2.27 ERA) are other solid contributors.
Phillies 1st round pick of 2007, Joe Savery, has worked his way up from Single-A to Triple-A this year as a hitter/pitcher. Overall pitching stats: 3-0, 14 G, 20.1 IP, 5:24 BB:K, 2.21 ERA, and a 1.23 WHIP. Overall batting stats: .293/.754, 24 R, 12 DBL, 3 TRPL, 3 HR, 32 RBI. I know it's a long shot, but it would be awesome to have Savery in the Phils bullpen and as a pinch-hitter off the bench that could play 1st/OF in emergency situations.
Readings Phillies:
56-52, 2nd Place
Outfielder Steven Susdorf is a "prospect" that doesn't get enough attention. He's currently batting .339/.902 for the Lil' Phils, and is a .304/.812 career minor league hitter over 4 seasons. Time to promote him to AAA and see if he's a future 4th outfielder or possibly more. Outfielder Michael Spidale is a minor league lifer that continues to hit (.319 AVG). Of course, there's firstbaseman Matt Rizzotti with his .289/.886, 19 HR, and 64 RBI helping to keep the offense afloat. Shortstop Freddy Galvis if finally hitting (.273/.727), and outfielder Derrick Mitchell is starting to develop a nice power/speed combo (16 HR, 13 SB).
On the pitching side of things there's strikeout machine Austin Hyatt (401 K in 323.2 innings over 3 years). He's joined by closer Justin Friend, who now has 26 SV and a 2.25 ERA between 2 stops this season. Reliever Michael Cisco is also doing a great job: 6-0 and a 1.91 ERA in 42.1 IP. All others worth mentioning have been promoted.
Clearwater Threshers:
58-49
Firstbaseman Darin Ruf has been on fire (.309/.888, 34 DBL, 12 HR, 64 RBI). He's joined by Future's Game participant Sebastian Valle/C (.308 AVG), raw talented outfielder Jiwan James (.281 AVG), and thirdbasemen Jeremy Barnes (.275 AVG).
Pitching is the Threshers' strength. Julio Rodriguez is 14-6 on the season with a 3.03 ERA. Jonathan Pettibone sports a 2.89 ERA with 8 wins. Trevor May continues to strike everyone out (159 K in 119.1 IP in 2011, and 447 K in 343.2 IP for his career). Eric Pettis isn't as dominant as he had been, but is still getting the job done (3.10 ERA).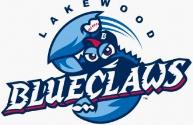 Lakewood BlueClaws:
53-52
Offensively they're lead by Jim Murphy/1B, who has smacked 21 longballs and collected 67 RBI to go along with his .890 OPS. Outfielder Domingo Santana, who is is about to turn just 19 years old, is batting .266/.777 and still growing into his 6'5" frame. Former high draft picks Anthony Hewitt and Zach Collier continue to not do much with the bat, but their speed remains (Hewitt- 28 SB, Collier- 26 SB).
Jesse Biddle (3.20 ERA), Garrett Claypool (3.70 ERA), and David Buchanan (3.38 ERA) are the Crabs best starting pitchers. 2011 25th round pick Ryan Duke is having a nice debut (1.23 ERA, 0.61 WHIP, 5 SV) between 2 stops and so is Jay Johnson (1.98 ERA in 36.1 IP).
Williamsport Crosscutters:
24-20, 4th Place
This team is composed of a bunch of youngsters. They lack power offensively (homerun leader has only 2), but their pitching is phenomenal. 2011 3rd round pick Adam Morgan has a 2.05 ERA in 5 starts, and 8th rounder Austin Wright has a 3-1 record with 44 K in 34.2 IP and a 3.38 ERA. Others names to remember: Juary Gomez, Gabriel Arias, Bryan Morgado, Lendy Castillo, and Austin Brough.
Nuggets from Phillies.com:
*Because of injuries, the Phillies have used three different closers this season: Ryan Madson (19 saves in 20 opportunities), Antonio Bastardo (8-for-8) and Jose Contreras (5-for-5). Together, they have combined to record 32 saves in 33 chances, post a 1.13 ERA (four earned runs in 32 innings) and hold opponents to a .180 batting average (20-for-111) with eight walks and 34 strikeouts.
*The 2011 season marks just the third time in franchise history that the Phillies have been in sole possession of first place on May 1, June 1, July 1, the All-Star break and Aug. 1 (other years: 1993 and 2008). Additionally, this year is only the second time in club history that the Phillies have had the best record in the Majors at the All-Star break (1976, 56-25, .691).