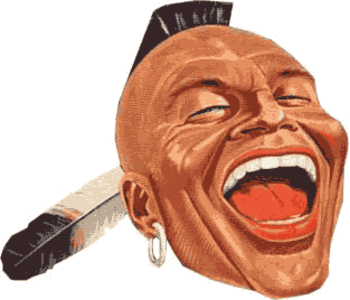 Atlanta Braves (53-36) @ Philadelphia Phillies (55-33)
Pitching Matchups:
Friday, 7:05 - Roy Halladay v. Brandon Beachy
Saturday, 4:10 - Cliff Lee v. Tommy Hanson
Sunday, 1:35 - Cole Hamels v. Derek Lowe
Season Series:
Phils 4, Braves 5.
Native Americans Batting:
Runs - 358 (17th)
AVG - .240 (26th)
OBP - .309 (24th)
SLG - .390 (16th)
The third baseman for the Braves is Chipper Jones. His real name is Larry.
Native Americans Pitching:
ERA - 3.02 (1st)
WHIP - 1.18 (3rd)
BAA - .229 (1st)
Atlanta pitchers are good. They throw the ball hard. Occasionally they throw it with slightly less velocity. They call that a "change-up."
Their Michael Martinez:
None, because the Braves don't keep garbage on their roster. Outfielder Matt Young was hitting .208 with a .498 OPS. Gone. Shortstop Diory Hernandez was hitting .212. Gone. Utility man Joe Mather was hitting .213. Gone.
Honorable Mention - Dan Uggla is hitting .183. He co-leads the team in homers (14) but his OPS is still only .612. And he's in the first year of a 5 year, $62 million contract.
What We're Drinking:
Corey -
Bluecoat Gin
and soda water. If you're a gin fan you have to try this Philadelphia made spirit. It's delicious. In the winter I prefer a very dry Bluecaot martini but in the summer a few ice cubs and a splash of club soda (don't ruin that beautiful gin flavor with tonic!) makes a potent, refreshing cocktail.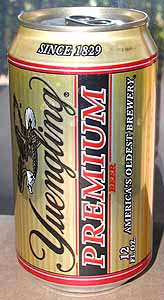 Carson - Yuengling Premium. I'm heading to the beach on Saturday for a week and the beer of choice while on the sand and in the sun comes in a can and is brewed by America's oldest brewery. By the way, it's a far superior beer to Yuengling's Lager. I'll also be hitting up Dogfish Head's brew pub next week for some delightfully different beers. Cheers!
Prediction:
Two of three for the good guys and a 3.5 game lead into the break.