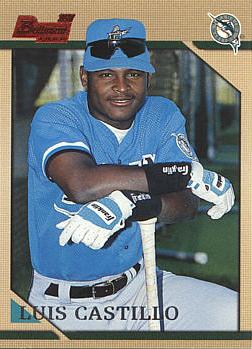 Hated him when he was a Met or a Marlin, that's fine, but you better love that slap hitting 2nd baseman now because the
Phillies are set to sign Luis Castillo
. The contract is rumored to be of the minor league variety, but either way the Mets are on the hook for all but the MLB minimum of Castillo's 2011 salary. This is a no risk move that has potential upside. Josh Barfield and Pete Orr were signed to minor league contracts for a reason...they're nothing more than minor leaguers. Michael Martinez was left unprotected in the Rule 5 draft by the Nationals for a reason...he's not worth protecting. With Utley's injury and Wilson Valdez likely inserted into the lineup, the bench needs another infielder, so roll out the red carpet for Luis Castillo.
Castillo is a switch hitter with a career line of .290/.368/.351, with 1001 R, 1889 H, and 370 SB. His defense is average at best, but he has hit .291 or better in 8 out of the last 10 seasons. If he hits like Juan Castro the Phils just release him. If he proves to be a valuable bench asset, then they keep him around. It's really just that simple. Sure Michael Young would have been a sexier pickup, but even with the Rangers eating half of the $48M owed to him over the next 3 years, it's not worth it. Hopefully a combination of Castillo and Valdez at 2nd is good enough to not lose the Phillies games in Chase's absence...and hopefully Chase's absence isn't too long.
*Don't forget to vote for us in the March Madness inspired Phillies Blog Bracket at The Phield.
Poll: (4) Phillies Insider vs. (5) We Should Be GMs