Good morning Phillies fans, it's your old friend, literary genius and Mets sycophant, Andy Martino. The children that crayon this internet abomination have asked me to craft a few more inspirational words about the Mets. Since I had so much fun last year writing for you morons and got such positive feedback, I agreed to return. So, without further adieu…
Injuries:
Each organization handles things differently. The Mets do things the right way. The Phillies do them their way. Take injuries as an example. When Johan Santana tore the labrum in his left shoulder, the Mets encouraged Santana to undergo surgery followed by a lengthy recuperation and rehabilitation. Santana started throwing recently but is still months away from taking the mound at Citi Field. Chase Utley, on the other hand, suffers from tendinitis in his knee but is still targeting an appearance on Opening Day. How is this possible, you say? Steroids! The scourge of baseball for the past twenty years is apparently the Phillies best friend as Utley and his team have no problem admitting his recovery is being assisted by injections in that troublesome knee. The same steroids that keep McGwire from the Hall, ruined the reputation of Rafael Palmeiro, and earned a federal perjury trial for Barry Bonds. Not to mention the scrutiny and mockery by fans, especially those from Philadelphia if my excellent memory serves me right, which it always does. Will Philly's finest display "Babe Ruth did it on hot dogs and beer" signs in protest of Utley's choice of pharmaceutical enrichment? No, the hypocritical fans of West Bank Camden I'm sure will see nothing wrong and support the "win at all costs" mentality of their team, regardless of the detriment to the players or the game of baseball as a whole.
Pitching:
Mike Pelfrey, the Mets scheduled Opening Day starter, pitched on Saturday and gave up four hits, two runs, and struck out zero in three innings. Following the starts, manager Terry Collins believes Pelfrey is "right on target" for his first real start. To a Phillies fan, that may be a troublesome quote. The never-satisfied, always-arrogant, ever-entitled Philadelphian would not like his number one starter to average greater than a hit per inning or have an ERA over 5. But in New York, we value aspects of pitching that aren't on FanGraphs.com, like the use of a protective mouth guard, for instance. Every year, sports related accidents result in the loss of five million teeth. None of those teeth belong to Mike Pelfrey though, who routinely sports a professional grade pressure laminated mouthpiece. As a spokesman for ADHP (Athletes for Dental Protection and Hygiene), Pelfrey spends as much time advocating for the dental health of children than he does working on his slider. You think Arkansas-born Cliff Lee has nice teeth like Pelfrey? The toothbrush wasn't introduced south of Virginia until 1972! So if you wonder why the children of New York smile even when Pelfrey is losing games, it's because they are so proud of their pearly white teeth. And I'm thankful that Mike Pelfrey cares about all of our teeth, regardless of his pitching ability.
Money:
I don't expect Phillies fans to understand even basic economic principles, let alone the results and ramifications of the massive Ponzi scheme operated by Bernie Maddof. (Just know that a Ponzi scheme is not named after Arthur Ponzerelli and neither Ralph Malph nor Potsie were involved.) But somehow, the honest and trustworthy owners of the Mets, the Wilpons, have somehow become tragically involved. The Wilpons have recently been sued for 1 billion dollars with some scoundrel alleging that they should or did know about the illegal operation. Combine that with
Forbes valuing the Mets at negative $225 million
due to stadium debt and club debt that includes recent loans form JPMorgan and Major League Baseball to cover operating expenses, and you have a club with "debts no honest man can pay." No meeting tonight in Atlantic City will solve this problem though and it seems as some teams continue to get rich, the Mets are destined for a George Costanza-like shrinkage. Some have suggested the Mets may need to
reduce payroll to as low as $70 million dollars
by next season if the Wilpons wish to maintain ownership through this difficult period. So while the Phillies splash for Cliff Lee, the Mets may be destined to lose their stars. Free agents-to-be Jose Reyes and Carlos Beltran may be traded before they reach the Winter and high-priced stars like K-Rod, Santana, and Jason Bay may become casualties of the this economic war. Of course, maybe if certain teams wouldn't overspend for players and raise the cost of competition to unreasonable levels, the Mets could compete at $70 million per season. I'm looking in your direction, Ruben Amaro…
Gambling:
As many of you know, I made a short comment on Twitter about covering Spring Training in a Speedo if Cliff Lee signed with the Phillies. Well, not only am I a world class wordsmith, I'm also a man of my word. I've attached picture evidence. Unfortunately for you Phillies blog readers who not only live in your parent's basement but also in their closet, I'm still wearing pants.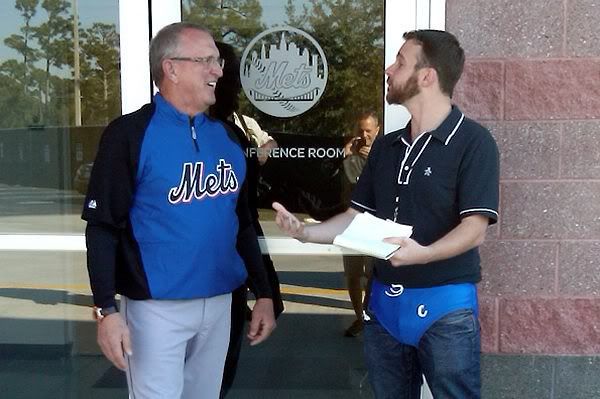 I hope you all enjoyed having a literate person read this article to you. Until next time Phillies fans, remember, it's your month to bath and you should not wear sweatpants every day of the week. See you soon.
~ Andy