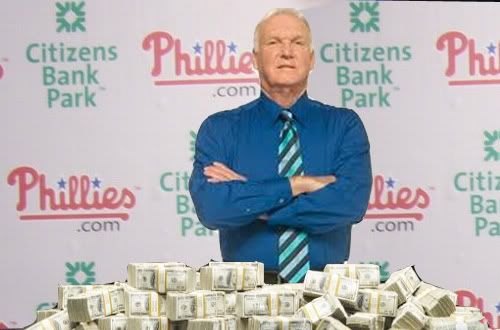 Charlie Manuel is making $2.4 million managing the Phillies this season but after 2011 his contract expires. Talks are ongoing but Fuqua says that if a deal isn't done before the season starts it will have to wait until the offseason.
Manuel had this to say via
Yahoo! sports
, "Once the season starts, I don't want to talk about my contract. Hopefully something happens in spring training, and if not, my extension and contract, I definitely don't want it to be a distraction for our team."
Rube had this to say, "I'm not going to characterize it, but obviously we want to get it done and have Charlie in our uniform. We've been working at this thing since December. So, we're hopeful we'll be able to get something done soon."
You've been working on this since December? It's the middle of freaking February. How difficult could these negotiations be?
This should be very simple. Charlie should have the years and money he wants and the Phillies should have the years and money they are willing to give and either they agree on a deal or not. It shouldn't take three months.
Either way, the deal needs to get done this week and the Phils should just give Fuqua what he wants. We're talking about adding at most less than 1% of the team payroll by giving the skipper a raise. Is that amount of money worth the risk of not getting a deal done and having to talk about this all summer? I don't think so.
C'mon Rube, give Fuqua his cash and let's all move on.