Never known for great timing, the GMs are heading out of town this weekend. No internet access for either of us and while I can't speak for Carson, my getaway includes only three television stations, none of which happen to be FOX. So, I will be getting my sports news Saturday night the old fashioned way, via the 11:00 local news sports report. I feel like wearing British Knights sneakers and a Hypercolor shirt to complete the nostalgia. Here's hoping for a Game 7 and a few thing to chew on before Game 6.
Can we stop the "Chase Utley is the greatest defensive second baseman in the league and deserves multiple Gold Gloves" bullshit for awhile? His defense this post season has been abysmal. His defense last post season was abysmal. He made 11 errors in only 115 games this season. Utley always has made a bunch of errors but the Sabermetricians don't care about errors as long as his UZR is high. And his UZR is real good. So good in fact that Fangraphs.com had Utley has the best defensive player at any position over the last three years. It's ludicrous.
Speaking of Utley, he's checking in offensively too – to the tune of a .158 average and no extra base hits. Given Utley's consistent career performance, I don't think I'm going out on limb to believe his thumb injury is still troublesome.
So far the Phillies are hitting .209 this series. They hit .215 last series. As a comparison, Abraham Nunez is a career .242 hitter. He also hit .346 in 28 playoff at-bats. This team is individually and collectively worse than No-Hit Nuni.
Ryan Howard is hitting .285 this post season and yet he's horrible. Zero RBIs. Fourteen Ks in 28 at-bats. Combine this post season with last year's World Series and Howard has struck out 27 times in his last 51 playoff at-bats. Did I mention the zero RBIs?
Jayson Werth is now the Phillies leader in playoff home runs after hitting his 13th in Game 5. Chase Utley has 10 and should catch and pass Werth in the next few years since Werth will be playing elsewhere and the Phils WILL return to the post season next year.
Roy Oswalt has never lost a game at Citizens Bank Park.
If the Phils win the game tonight, start planning for a World Series because there is no way they would lose Game 7.
Finally, here is a picture that I took from
thefightins.com
of Roy Halladay staring at Pat the Bat. I though Roy looked pretty gangasta so I made him look a little more gangsta. I guess I would title this, "Roy Will Cut(ter) You." Very clever of me.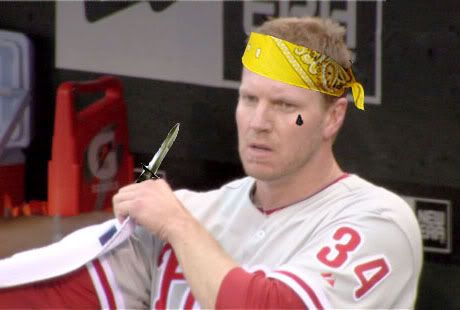 Go Phils.