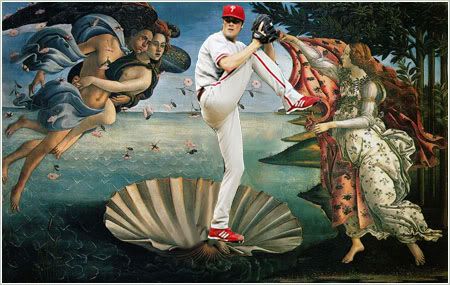 To be accurate, the title of this piece should be "The Re-birth of Cole," but since the original isn't the called the
Re-Birth of Venus
...
Cole's arrival to the post-season in 2007 was mediocre. He had one average start while the team got swept away by Colorado. The following year, a star was born. NLCS MVP. World Series MVP. Unfortunately, we all know how the next twelve months (apologies to the Sabermetricians who think he was just unlucky for an entire year...) and the following October went. Brutal.
Well, the star needs to be re-born this playoff season. Cole is lugging a whole lot of playoff baggage from last season into this start. Let's hope he pitches with confidence and not hanging change-ups.
--------------------------
Some Other Stuff
I was offline for a while and didn't get to comment, but I actually think the debate of who's pitching performance was more dominant, Lincecum or Doc, is a valid one. I think Doc's was but it's because of how I view certain stats. Let me explain.
There's no debate that Doc's game was more special, more historical, more memorable, more traditionally important, etc. But as far as domination, the only thing that separated the two starts statistically was Lincecum with six more strike outs and Lincecum allowing two batted ball to be hits. And the stats guys will tell you that BABIP (batting average for balls in play) is almost entirely "luck." So if you are a stats guy, you would probably think Lincecum had the more dominant game and just got less luck than Halladay. Agree? Maybe not. But it's not a ridiculous idea.
File Under: "Karma's a Bitch"
Orlando Cabrera had to run his mouth. [See Carson's post from two days ago.] He had to besmirch His Greatness' no-hitter by complaining about the umpire and his big strike zone (while ignoring the fact that his pitcher couldn't make it to the 3rd inning because he couldn't find the zone.) Now what's Cabrera up to. Right, he was just arrested by the Karma police. He has an oblique strain and may not play tonight or the rest of the playoffs.
File Under: "Stupidest Thing I've Ever Heard. Ever."
Apparently Dusty Baker does more than ruin the arms of young pitchers. He also says really, really stupid stuff. Like this great one after Game 2, "In my mind, we outplayed them."
Exactly how did the Reds "outplay" the Phils. More walks. More HBP. More errors. Less hits. Just stop talking, Dusty, and go back to what you do best - high volume referrals to Dr. James Andrews.