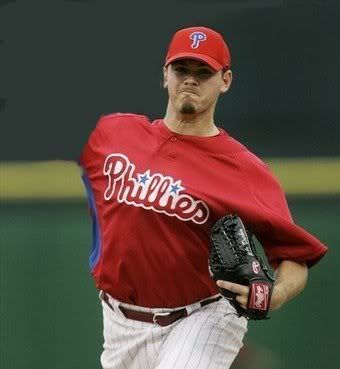 Is there something wrong with Chad Durbin?
Last night esteemed commenter "ripjerrygarcia" wondered if his
arm has fallen off again.
Then Carson dropped this line on Bookface - "I think we need to hold a funeral for Chad Durbin's arm. It has officially died."
Okay, since I don't actually watch the games anymore (I learned from the stats geeks that watching is completely over-rated and that everything we need to know about baseball is in the box score...) I figured I better pour over some stats. Truth in numbers, bitches.
ERA by month:
Apr - 2.61
May - 2.77
Jun - 4.50
Jul - 4.91
Aug - 3.07
Sep - 7.27
That doesn't look so good. But, over his last eight appearances, his ERA is only 3.37 (2 ER in 5.1 innings.) Also, he's apparently had some bad luck, too. His BABIP this month is .384.
Conclusion - I have no idea. And I refuse to comment on how he looks because that doesn't mean anything, just ask MLB scouts, who do most of their work in the basement of CBP comparing the VORPs of high school players...
------------------------
Sunday Clinch Day?
Philles: Ol' Girl Parts v.
Pat Misch.
Braves: Beachy v. Livan Hernandez
The Braves trail the season series with the Gnats 9-8. At this point in the Gnats history, if you lose a season series to them, you should be ineligible for the playoffs.
------------------------
Best TV Day of the Year?
11:00 - Newcastle v. Stoke
1:00 NFL RedZone
1:30 Phillies (clinch Division???)
4:00 Eagles v. Jax
7:00-9:00 Nothing...
9:00 Boardwalk Empire
10:30 Eastbound and Down