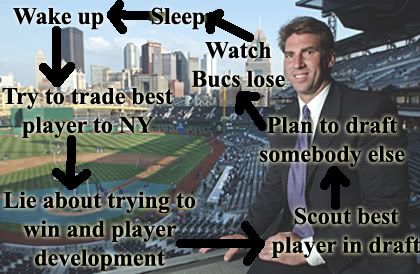 Youth Movement
I grew up in a split household. My parents are together, they just root for baseball teams from each end of the state, with my father loyally representing the Buccos. Since the season began, we couldn't have a conversation without him pointing out that Pedro Alvarez, Neil Walker and Jose Tabata should be with the big club. He doesn't care about Super 2 status or arbitration years. His argument - "They'll lose their good player eventually anyway, might as well just play them now so we don't have to watch [insert useless player here] anymore." Well, he's finally got his wish but things haven't gone that well so far. Alvarez is struggling at .152 and Tabata is batting leadoff...at about .250. Walker is actually playing very well, hitting .295, and may be the answer at second base (if the question is "Who can play better than Aki Iwamura?) He's currently out with a concussion and may miss this series, though.
Team Rankings
                         Phillies         Pirates
Batting Avg                 17               28
Home Runs                   11               30
RBI                         11               28

ERA                         14               29
WHIP                         7               30
Strikeouts                  25               27
We're Not Chicago
The Pirates are 9-3 against the Cubs. They are 18-48 against everyone else.
The Pierogi Said It All
I'm sure you've heard the
Pirates fired one of the pierogi racers
(Jalapleno Hannah, to be exact) for something he said on Facebook and then rehired him a few days later. What did he say?
Coonelly extended the contracts of Russell and Huntington through the 2011 season. That means a 19-straight losing streak. Way to go Pirates.

Couldn't have said it better myself...
Probable Pitchers
Daniel McCutchen
Ross Ohlendorf
Paul Maholm
Jeff Karstens
Some people, especially
Chris Wheeler, think the Phils have troubles
against the Buccos starters. But after Paul Maholm, their is no excuse not to hit these guys. Ohlendorf is a hard-luck 0-6 and Karstens can be solid too. But Daniel McCutchen sucks. They should put up a 10-spot on him today.
Prediction
Phils take two. If the Buccos win this series, I will...I haven't decided yet, but it will be drastic.