"You are used to guys who have everyday stuff, but it's very rare that you see a knuckleballer. Two in a row is even rarer — like Halley's Comet," said Ryan Howard. "Tomorrow we get a regular pitcher and try to right the ship."
Oh, yeah, a "regular pitcher." That's the cure. At this point, I don't think this team could hit Adam Eaton. They've been scoreless in 28 or their last 29 innings. That's hours and hours of hitless, scoreless, pathetic baseball.
Last night was especially frustrating - bases loaded with no outs, bases loaded again the next inning, second and third with now outs - yet no runs. Thirteen men left on base. Ugh.
Does Charlie Manuel think a "regular pitcher" is all this team needs? Maybe not.
"We got outplayed, we got outhustled. We can go through stretches, but tonight especially we could play with more enthusiasm. We're playing bad right now"
I agree. This has more to do with psyche than it does the speed of the pitches. This is a typical midseason funk that we are all accustomed to and they just need to break out of it. I'm just not convinced it is going to be tonight.
Manuel All Wet And Soapy
Just a little something to take your mind off of the Phillies hitting woes. From Yahoo.com - Jimmy Rollins' response to being told Charlie Manuel thinks about where to hit his longtime shortstop in the lineup while he showers.
I don't want to think about Charlie in the shower.
Speak for yourself Jimmy. I think Charlie in the shower would look a little like this: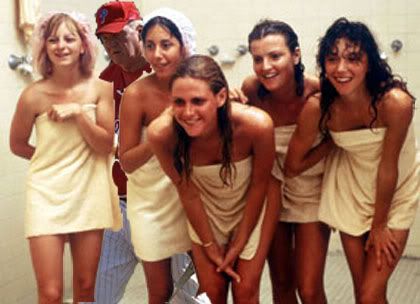 Just don't peep on Uncle Fuqua when he's showering with the ladies...
Advanced Scouting on Hasinori Takahashi
No, not really advanced, just a few numbers.
HERE
are his stats from his ten years with the Yomiuri Giants.
As for this year, here are some of his peripheral stats:
K/9 BB/9 HR/9 BABIP xFIP HR/FB%
10.7 4.23 .28 .332 3.55 3.0%
So what does this tells us? Well, his high BABIP implies some bad luck but his HR/FB% implies some good luck. His WSBGMs Luck Factor sits at about +4 right now. Combine that with the Phillies struggles and that huge ballpark and I predict Takahashi will go 6 innings only giving up a single run.