John Maine Is A Liar
Or maybe he just really sucks.
Maine was pulled from his start last Thursday after only five pitches. Jerry Manuel said Maine was yanked early because of lack of velocity. Reports had Maine not topping 80 and bouncing pitches in the bullpen. When he went out to start the game, the Mets already had a reliever ready. After he walked the first batter on a handful of pitches, Manuel made the change.
Maine's take on the matter? "Whatever they say, I'm just so frustrated by the whole situation. Even if I was throwing 82 miles per hour, I would have got my brains beat in and that's a legitimate reason to take me out. But it didn't happen that way. I really wasn't given the opportunity. It was five pitches and I was in and out."
Pitching coach Dan Warthen agrees with his manager. "If he's throwing that way, then there's got to be something incorrect in that arm," Warthen said. "Something's not feeling correct. John's a
habitual liar
in a lot of ways."
So he's a liar. He's also now been placed on the DL and an MRI exam revealed right rotator cuff tendinitis. We won't be seeing John Maine for a while.
There's Our Old Friend
Jeff Francoeur started the season like a house on fire. He had 16 hits in his first 10 games, including three homers. After those ten games he was hitting .457. People, not just Mets fans, seemed to forget he was Jeff Francoeur. Since then, he's hit like the old Jeff Francoeur. This month he's batting only .177 with a single homer. He was 0-11 last series against the Yankees. Let's hope the early April Francoeur doesn't show up today.
These Pictures Speak For Themselves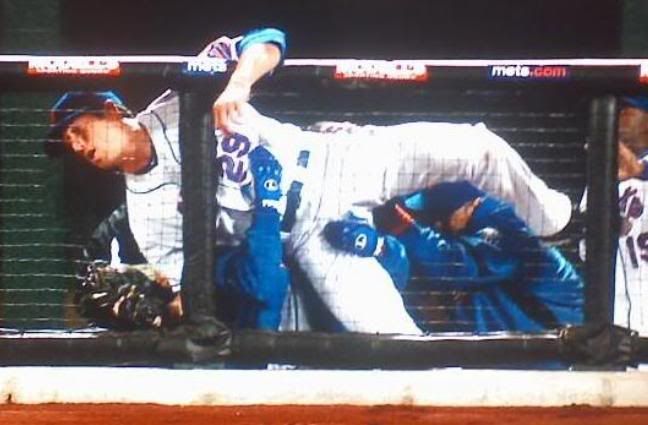 Hey New York, Fix Your F#@%!$& Bridges
Unfortunately, I travel to New York quite often. And it's no cheap trip either, between gas and tolls I could find a lot better ways to spend my money. But the biggest kick in the groin is the bridge tolls. It's $11 dollars to go over the Verrazano Bridge and $8 to go over the Goethals. And they are both shit bridges, especially the Goethals. The lanes are only 10-fee wide and there is zero shoulder, both of which do not meet minimum requirements of current highways standards. Studies designed come up with the best solution to fix/update/replace the bridge have been going on since the mid-nineties. The solution so far? Nothing. In 2002, 15 million cars went across the bridge. At $8 per car going one direction, that is about $60 million per year. So the state (specifically, the Port Authority) has taken in $600 million from this one bridge this decade but cannot come up with a plan to fix this piece of crap. No wonder New York state and city is in such bad shape, they obviously have complete idiots in charge. Similar to the Mets, I suppose...
The No-Ace Luck Continues
St. Louis without Carpenter. Atlanta without Hudson or Hanson. Colorado with Jimenez. Milwaukee without Gallardo. Pittsburgh and Chicago without a real ace on either staff. Boston without Lester. Now New York without Santana. Will the Phils be able to face Florida without seeing Josh Johnson?
Probables
RA Dickey
- Besides his hilarious name, Dickey is known for tossing the knuckler. Since the Phillies just saw a knuckleball pitcher, they might be set for an offensive outburst. Or they will be psyched out by getting blanked by a knuckleballer and their hitting woes will continue...
Hisanori Takahashi
- The elderly hurler made his first start of the season last week, going six scoreless against the Yankees. He's been pretty effective for the Mets and rather versatile. In addition to starting, he's pitched in late and long relief. He's like their lefty, Japanese version of Chad Durbin.
Mike Pelfrey
- That whole
tongue thing
still really freaks me out. And despite his macroglossia he's managed a 6-1 record and a 2.86 ERA. He had a BABIP of .321 last year, but this year it's down to .297. Also, his HR/p percentage is half of what it was last season with a similar FB%. I guess that means he was just really unlucky the last season and now this Mike Pelfrey is finally getting the results his talent deserves. Right?