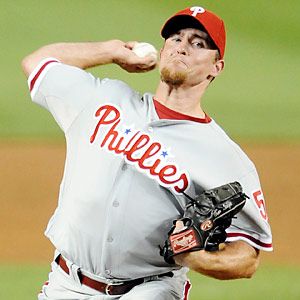 Rehab
Brad Lidge pitched two innings last night for Reading. He recorded four Ks and threw 23 of 33 pitches for strikes.
Joe Blanton will make his third rehab appearance today. He has pitched five scoreless minor league
innings so far this season.
Cliff Lee pitched six scoreless innings for Tacoma a few days ago and is scheduled to make his 2010 major league debut on Friday.
What About Werth
From Jayson's agent, Jeff Borris: "I've had dialogue with (Philadelphia general manager) Ruben (Amaro Jr.) since the winter meetings. I don't want to rule out the possibility of his re-signing with the Phillies, but it would appear right now we're at an impasse."
Slump
Chase Utley is now two for his last twenty.
The Phillies are one for their last 5. The Mets are now in first place.
NL East Stuff
Great quote from ex-Brave Brian Jordan about our often injured friend Chipper: "As you get older, you've got to work out a little harder to prevent injury and I'm not sure if he's really dedicating himself. He's so used to — you know, I played with him so long — just sitting around and waiting for the game, and take a couple jogs and go play. But as you get older, you know, you cannot do that. You've gotta go the extra mile to be ready to play."
Interestingly, the totally hypocritical Jordan played only 150 in two of fifteen major league seasons due to football commitments and frequent injuries. Glad to see Brian Jordan making totally unsubstantiated criticisms. He'd make the perfect blogger.
The Eaton Watch
WSBGMs will be giving out another yearly award, the Adam Eaton Award, given to the Phillies worst starting pitcher. We'll be tracking the contenders randomly. In the first edition of the Eaton Watch, it seems to be a two man race:
      2-2             0-0       W-L
     5.25             7.71      ERA 
     1.42             1.77      WHIP
     .293             .316      BAA
      -1               -1      Luck Factor
Today's Matchup
Cole Hamels versus Tim Lincecum at 3:45 on MLB Network. Shit. Of course, Cole did throw a 2-hit shutout versus the Giants last season so maybe he has some confidence. But then again, even if he throws a great game Lincecum likely won't give up more than a run or two. Remember, Lincecum is the luckiest pitcher in baseball (aka Cy Young winner.) Prediction – sweeeeeep…for the Giants.