Last year I did a Tale of the Tape before each series against a new opponent. Well, I'm not nearly creative enough to come up with 5-6 more comparisons for each city again this year. Instead, before each series I'll just riff on the city, it's people and it's baseball team so everyone knows what the Phils are up against. I'll also link to last season's TotT. First up, Houston and the Astros.
Houston TotT from 2009.
Ballpark:
There are a few things I like about "The Juice Box" in Houston. The train on top of the left field wall is cool. I like that Doug Glanville was the first player to get a hit there. (Randy Wolf got the first win and Wayne Gomes the first save.) I even like the short porch and "Crawford Boxes" in left. Sure, it gives up some really cheap homers, but the rest of the ballpark is not as hitter friendly and overall the stadium plays relatively neutral (park factor of .930-Runs in 2009.) But that stupid hill and flagpole is indefensible. I understand similar items were located in Crosley Field and old, old Yankee Stadium, but that doesn't make this cool. It makes it dangerous and unnecessary. There is a fine line between quirky and stupid and that hill/pole is firmly entrenched on the wrong side of that line.
Baseball Uniforms:
The good and the bad & ugly.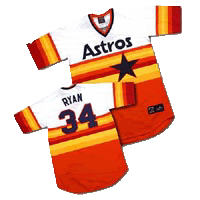 Phucco Connections:
You all know about the scrot-faced GM and his Philadelphia also-rans (Myers, Feliz, Michaels, Bourn) but I bet you didn't know that former Buccos Dave Clark and Al Pedrique are on the coaching staff. Clark coaches third and Pedrique is the bench coach.
The Team This Year:
It could be a long year in Houston if the offense struggles like they did against the Giants. They get a pass for getting shut down by Bong-Hit McShaggyhair in the season opener, but for Barry Zito et al. to get a shutout in game two is scary bad. Hell, Pedro Feliz hit 5th in that game. Lance Berkman is out injured and if the Astros plan on winning a few games this year, he needs to get back ASAP… and Roy Oswalt needs to get five years younger.
Why We Should Be GMs:
DL Disappointment:
The Astros placed Sammy Gervacio on the 15-day DL for a rotator cuff strain. He's a good young pitcher so the Phils have a better chance of winning with him out, but I'm disappointed because we won't get to watch this…
Probable Starters:
Bud Norris - The nephew of Chuck Norris pitched once against the Phils last year, winning the game after going six and giving up only two earned. He hadn't given up less than five in his four starts before that.
Felipe Paulino - Like Bud, Paulino was horrible (7 straight losses) before giving up only a run in five innings against the Phils on October 1st.
Roy Oswalt - Career stats versus the Phillies: 6-1, 3.23. Of course, most of that was before he was old and washed up like he is now.
Prediction:
Sweeeeeeeeeep!