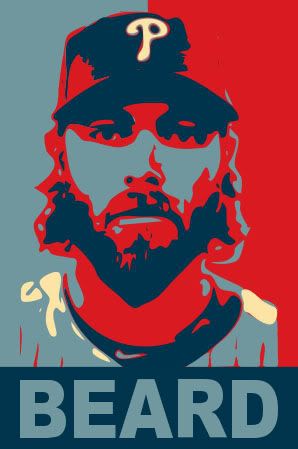 Most Likely To Suffer Premature Death Due To A Slump
Jayson Werth's Beard
– In mid-April, the Phils have back-to-back sets against the Braves and Marlins. Werth could potentially face Josh Johnson, Ricky Nolasco, Tommy Hanson and Jair Jurrjens in consecutive games. He has a career average of .252 against righties and a career average of .254 in April against all pitching. That's a setup for a week long slump and when it happens, the Beard will be gone in some sort of superstitious slumpbusting ceremony.
Most Likely To Disappoint (Batter)
Placido Polanco
– He's old. He hasn't played third base in years. His average last season was his lowest since he was a part-time player with the Cardinals in 1999. Could we have a third baseman that hits .275 with single digit homers and questionable defense that is signed to a long-term deal? I think so. T-minus two months until the first David Bell comparison.
Runner-up:
Raul Ibanez
. It's hard to ignore the post-all star injury and subsequent poor play, his age, and his horrendous spring. I'm the first to point out the meaninglessness of spring stats, but something tells me he could be in for a rough year.
Most Likely To Piss Me Off
Cole Hamels
– Hamels is coming off of a bad year so you would think expectations would be tepid. Instead, all talk this spring is about how good Hamels is going to be. Buster Olney says you should draft him early in your fantasy league. But why? It seems that not a day goes by that someone isn't writing an article about how he's working on a new pitch (slider, cutter, gyroball…) or refining his curveball and that it's going to make such a difference. If the article isn't about his new pitching repertoire it's about his off-season workout commitment. It seems that the stars are aligned and Cole Hamels is ready to breakout (again). And I hope he does. But part of me will be pissed off because WTF was he doing last offseason? Working on his curveball? No. Developing a cutter? No. Working out like a maniac preparing to defend the WFC? No. He was carrying dogs around in little backpacks, posing for magazine pictures and collecting children from Third World countries. So when October rolled around, he was a one-trick pony running on an empty tank getting rolled by Yankees. I hope he pitches great this year, but the first post-game interview he gives and credits his "offseason work/preparation/etc." I'm going to be mad because it will reaffirm that last year's struggles were primarily due to…immaturity? laziness? over-confidence?...at the least a lack of preparation. And that's a tough pill to swallow as a fan.
Most Likely To Surprise
Danys Baez
– I don't know, call it hunch, but I'm getting a
Chris Matthew- like leg tingle
when I think of Danys Baez. Sure, he hasn't had an ERA under 4 since 2005 and he missed the entire 2008 season but he's now almost two years removed from elbow surgery and his peripheral numbers were pretty good last year: .222 average against and 1.13 WHIP. If Lidge becomes a reliable closer again Baez could be a key piece of the bullpen puzzle.
Most Likely To Be Signed by Ed Wade
Juan Castro
– He's going to suck. It's almost like the Phillies need a guy like this on the team. Abe Nunez goes and they bring in Eric Bruntlett. Bruntlett goes and in comes Castro. But this year they will wise up and ship Castro out mid-season. He will immediately be signed by Houston.
Most Likely Not To Repeat 2009
Jimmy Rollins
– Jimmy played great defense and had some decent stat categories (31 steals, 100 runs, etc.) but that .250 average and .296 OBP were brutal to watch. But there also was some hope in last season's stat line – an across the board increase in almost every stat after the All-Star break. +.043 AVG. +.019 OBP. +.159 OPS. This points towards "half season slump" and not "radically declining skill set." Expect a line similar to five years before 2009 - .275-15-75…and a less-than-ideal OBP.
Runner-up:
JA Happ
– 12-4 with a 2.93 ERA. You think Happ is going to win 17 games and keep his ERA under 3? Not likely. I don't think he's going to go "Adam Eaton" or anything but I don't expect Halladay numbers, either.