Hat tip to Todd Zolecki (Packers fan, journalist and author of
"The Good, The Bad &The Ugly,"
the greatest piece of American literature since Fitzgerald penned "Gatsby") for posting this picture of Roy Halladay creating his own masterpiece in a bullpen in Clearwater.
Magnificent. The only thing better would be Cliff Lee throwing right beside him. But maybe they are better with a French Canadian reliever without hemherroids and the second coming of Curtis Pride. But I digress. Back to the stellar view of a Halladay delivery. It's so pure. Almost mesmerizing. I love it. But maybe not as much a Uncle Fuqua.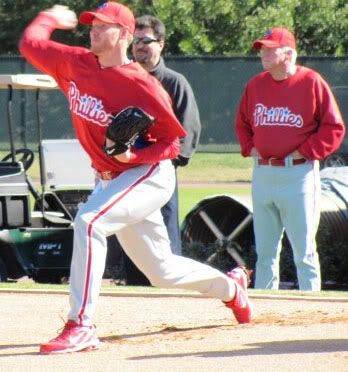 Wow, two hands down the pants. He's really going for it. And he doesn't care about the goateed gentleman standing beside him, this performance is going to be celebrated regardless of who it may offend. No wonder he wanted to lose so much weight this offseason. A chubby guy could never go two-handed, as the off hand would be required to hold the gut up and off of the belt. But a skinny Fuqua is having no problems.
Look at him. In the height of ecstasy. Is this Spring Training or Hedonism? Paul Ruebens is jealous of his public display of pitching appreciation.
Get some, Fuqua.