Alternate title: "My Least Favorite Phillies of the Decade."
Carson posted the
Phillies team of the decade
during the World Series. It was fun but being the buzzkill masochist (see: lifelong Philadelphia sport fan) that I am, I would much rather complain about the horrible players that have suited up this decade than celebrate the accomplishments of the good ones. That's just how I roll. So if you are like me and enjoy reliving the mistakes of the past you'll like this "All Decade Team." The position players are up first with the Pitchers tomorrow.
Catcher
Rod Barajas
– He hit .230-4-10 in 2007. That's bad but he may not have made this list if he hadn't broken Brett Myers' arm. You may remember that in May of 2007, with two outs and closer Brett Myers on the mound, Barajas received an outfield throw that beat the runner by about 10 steps. But instead of blocking the plate, Barajas stood over the dish and let Hanley Ramirez slide between his legs. The inning continued and Myers hurt his arm a few pitches later. He should never have been allowed back in the ballpark after that game.
First Base
Travis Lee
– To be fair to Lee, he wasn't that bad. He just wasn't that good. He also played the game with a stoicism that appeared to me as apathy. Defenders of Lee might point out that Chase Utley rarely shows emotion and we don't make that a negative for him. I say, Chase Utley doesn't hit .260. And c'mon, in the middle of the steroid era, he hit 13 homeruns as a starting first baseman. A little Winstrol would have gone a long way in keeping you off of this list, Travis.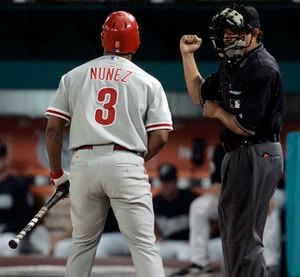 Second Base
Abraham Nunez
– It's bad enough that this guy got 656 plate appearances over two years despite hitting .221 but that fact that the Phillies paid him three million dollars to do so is maddeningly frustrating.
Shortstop
Eric Bruntlett
– Utility player Bruntlett was just that the last two seasons, playing seven different positions at least adequately. He scored the winning run of the 2008 World Series. He had a killer beard. But he also hit .202 in over 300 at-bats. We had to watch Eric Bruntlett come to the plate 356 excruciating times over the last two seasons. In 1986, no one would care about his futility. He would have been just another dud on a team full of duds. Unfortunately for Bruntlett, he was on the back-to-back NL champions and every Phillies fan needs something to complain about. Bruntlett was always there to fill that position.
Third Base
David Bell
– If you look back at David Bell's stats, it may not be evident why he is on this list. His second season with the Phils he hit .291 with 18 homers. Of course, the year before he hit .195. And the year after hitting .291 he was second in the league in grounding into double plays. But it wasn't just that David Bell sucked, it was how David Bell sucked. There was just something about him that many of us didn't like. The way he swung a bat. The way he fielded a ball. The way he threw the ball to first. It was all very unappealing. And we had to listen to company man Chris Wheeler verbally copulate Bell every time he did anything remotely adequate. When someone spends so much time trying to convince the listening audience that a player doesn't suck, there is a good chance he actually does.
Left Field
Rob Ducey
- I kind of feel bad for Rob Ducey. There isn't a "Worst Of" list on this site that he isn't a part of but it isn't his entire fault. Some of the blame falls on the GM at the time. There have been lots of poor hitting outfielders in the last ten years. It's just that none of them have been traded away…then traded for in the same season. For those of you who need a memory refresher, here's how it went down. In the 2000 season he was traded to Toronto after hitting .189 for the Phils. After hitting .154 with the Blue Jays the Phils got him back in a trade for Mickey Morandini. He finished strong (.217) but it wasn't enough to wash away the negative taste of trading for a player hitting under .200 after they successfully jettisoned him once. Somehow, he lasted part of
another
season with the Phils. This transaction was one of the inspiration for the phrase "we should be GMs."
Center Field
Endy Chavez
– In 2005, Chavez was the utility outfielder for the Phillies. He played in 90 games and got over 100 plate appearances but hit only .215. He was fast but his .243 OBP resulted in only two stolen bases. But the numbers are only part of the story. It was brutally painful to watch him attempt to hit a ball. I would describe his batting approach as "aimlessly flailing." To make matters more infuriating, the following year he signed with the Mets and hit .306. Bastard.
Right Field
Chris Roberson
- Roberson hit a paulty .232 and slugged a whopping .261 during two unspectacular years. While that is impressively bad, what gets Roberson on this list is he defense. He made frequent late-inning appearances as a defensive replacement, only to make frequent late-inning defensive blunders. Of course, then the game would get tied up and Roberson would come to the plate in the 11th inning instead of Pat Burrell, which angered me severly. It's no wonder Roberson has never reemerged in the majors after leaving the Phils.
Bench:
Jose Offerman
– He only played part of one season with the Phillies but I have such bad memories of his time. He was signed primarily to be a pinch hitter. He rarely saw the field, logging only 16 innings at first base. Problem was, he couldn't hit at all! It's bad enough when a utility player can't hit, but the designated pinch hitters should be able to hit a little. He was 6-33 (.182), many times batting in key late inning situations, before the Phillies realized what we all had know and released him. Like Chavez, Offerman signed with the Mets and batted significantly better. Bastard. At lease he didn't attack anyone with a bat while he was with the Phillies.
Danny Sandoval
– Short stint was still dubious enough for Carson to dub him the "Ass Clown." Not sure what an "ass clown" is, but it's not a name a good player gets.
Alex Gonzalez
– 4 for 36. Ughh. Luckily for all of us he retired mid-season.
Shawn Wooten
- He was an abominable 9 for 53 during the 2004 season. Wooten did teach me one thing about baseball, though - never trust a chubby guy that can't hit for power.
So Taguchi
- Here was my summary of Taguchi's 2008 season - "Taguchi started the last game of the season and went 3-5. But if you forget that game, he was hitless in September. He was also hitless in August. He was also hitless in the playoffs, too. For the majority of the season, So Taguchi was hitless." That pretty much sums it up.