Quotes About
Houston - "Houston, we have a problem." - James Lovell
Philly - "I once spent a year in Philadelphia, I think it was on a Sunday." - WC Fields
Advantage - Philly. Unlike space travel and moon landings, Philadelphia is real.
It's The Law
Houston - It is illegal to sell Limburger cheese on Sunday.
Phillly - You may not catch a fish by any body part except the mouth.
Advantage - Push.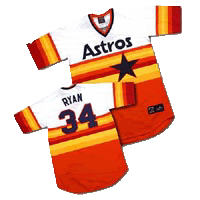 Ugly Clothing
Houston - Those "Rainbow Guts" uniforms (aka Tequila Sunrise).
Philly - The short-lived all-moroon monstrosities from the early eighties.
Advantage - Houston. Nobody is sporting the all-maroons these days, but the Rainbow shirts are now chic.
Sir Charles Connection
Houston - Four seasons with the Rockets.
Philly - Eight seasons with the Sixers.
Advantage - Push. Zero NBA Finals with either....and I couldn't decide if spitting on someone was an advantage or disadvantage. It's a shame the
DUI/fellatio incident
didn't happen while he was in Philadelphia.
The City As A Name
Houston - Whitney Houston
Philly - Philadelphia Phil & Phyllis
Advantage - Philly. Because Phil & Phyllis knew when to go away. Sure, they made a cameo when the Vet closed, but for the most part they have taken their unpopularity and stayed away. Whitney, on the other hand, just won't go away. She's like herpes...except with more herpes.
Corey