So I'm doing a fantasy football draft yesterday and while I'm waiting my turn to draft a player nobody would take until at least three rounds later, I caught a Subway commercial featuring Ryan Howard that I never saw before. But it wasn't just any old Subway commercial. It was Golden! View for yourself.
It turns out that the video was posted to YouTube by TheFightins.com and they did a post about it on the 26th, so I'm not breaking any news here, but did you catch the song? None other than the theme song by the Golden Girls, "Thank You For Being A Friend" by Andrew Gold. The same Golden Girls whose
presence on this blog months ago
resulted in a prolonged winning streak by the Phils.
Has anybody noticed what has happened to Ryan Howard since this commercial started airing? The guy is a monster now and he even hit a homer off of a lefty last week.
Bea Arthur may be dead, but she and all of the other wrinkled old G-Girls are still working their magic on the '09 Phils. I say we take advantage of this phenomenon. So, GTFO Betty White, Brad Lidge needs some mojo.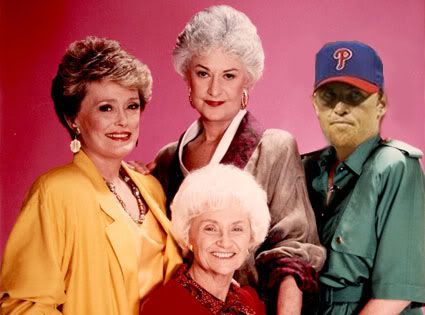 Corey