Eric Bruntlett caught a liner that was hit right at him, stepped on second and tagged a guy who was standing still. Nice play. His reward? The Hall of Fame called and requested a little bit o' Bruntlett in Cooperstown.

Reports say that the Hall asked Bruntlett
for some "memorabilia" and the pinch-hitting ace of the bench obliged by donating his game jersey. But that isn't where this story ends. WSBGM's has learned the hall will be giving Bruntlett his own plaque, too.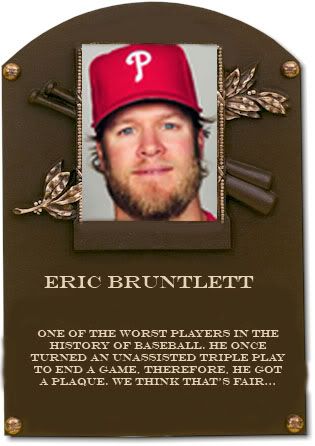 ----------------------------------------------------------
Fries: Way Too Heavy For Wheels
In the ninth inning yesterday Wheels and T-Mac start talking about the upcoming series in Pittsburg. During their
inane verbal Ambien
witty banter T-Mac asked Wheels if he's ever had one of those sandwiches with the french fries on it. Wheels' reply?
"No way. That's too heavy for me."
Chris Wheeler has been broadcasting games for the Phillies since 1977. That makes over thirty trips to Pittsburgh for at least three days at a time and
zero
Primanti sandwiches. Disgraceful. And the fact that the weight of the sandwich contributes to this tragedy is even more disgraceful.
Wheels. Please. Go get a sandwich. Have Sarge or Frantzke feed it to you if you're worried about being able to lift it.
----------------------------------------------------------
Phantasy Phootball
Yahoo! league ID 666979, password is "phillies".
Corey