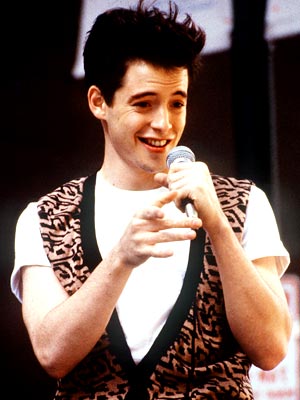 Fun Parade
Chicago - Von Steuben Day Parade
Philly - Mummer's Parade
Advantage - Philly. Von Stueben Day is celebrated in many places, not just Chicago. In fact, the biggest parade is in NYC. So, even though Ferris Bueller sang "Danke Schoen" and "Twist and Shout" in the Chicago parade, it's lack of originality makes it an easy loser to the Mummers.
Ballpark Name
Chicago - Wrigley Field
Philly - Citizens Bank Park
Advantage - Chicago. Two reasons: 1)the government isn't bailing out the gum industry and 2)the Doublemint Twins. Yummy.
Hall of Fame Broadcaster
Chicago - Harry Caray
Philly - Harry Kalas
Advantage - Philly. Kalas takes this category for Philadelphia based on loyalty and longevity. He was the Phillies broadcaster for 38 years. Harry is the voice of Philadelphia and the Phillies. Caray, on the other hand, was consistent with his location. He spent 25+ years in Chicago, split between the Cubs and White Sox. But he spent nearly as much time calling games for the Cubs arch rivals, the St. Louis Cardinals. Think Kalas would have left to go call Mets games after being in Philly for 25 years? I don't think so.
Losing Tradition
Chicago - The longest title drought in major professional sports history. That is one hell of a cursed goat...
Philly - Most losses in professional baseball history.
Advantage - Philly. The Cubs haven't even been to a World Series since 1945. That's way worse than merely losing a lot of games. Especially when the Phillies are currently WFC.
Outfield Wall Composition
Chicago - Ivy covered red brick.
Philly - Typical green padded wall.
Advantage - Philly. If Aaron Rowand would have been the Cub's centerfielder a few years back he would have died.
Name of Tall Building
Chicago - Willis Tower
Philly - Comcast Center
Advantage - Chicago. The Sears Tower was recently renamed the Willis Tower in honor of Bruce Willis and the the 20 year anniversary of the release of "Die Hard." Props to Chicago for honoring the greatest action star of our generation and the greatest movie to never win an Oscar. Yippie kay-yay, Chicago.
Needs English Lessons
Chicago - Balki Bartokomous. Balki, the Chicago resident and former shepherd from the island of Mypos, often gives advice to "cousin Larry" in very broken English.
Philly - Gary "Sarge" Matthews. When Sarge speaks, it's best to write down the words and then rearrange them to so they make sentences before you actually try to comprehend what he is saying.
Advantage - Chicago. At least Balki is from another country. Sarge's only excuse is that he takes cues from Wheeler.
There you have it. The numbers never lie. Put another series win down for the fightin' Phils.
Corey