Here is the Muts lineup from yesterday:
Cora
Murphy
Wright
Church
Evans
Reed
Schneider
Castillo
Here is their disabled list:
Beltran
Maine
Putz
Martinez
Reyes
Delgado
Perez
Pagan
Wagner
Here are Mets fans after the game on some of the Mets blogs:
"This is like a dance contest where the other guy is just doing the headstand spin and wagging his finger at you"
"Words can not express what I just saw and feel right now."
"Hey Hey, Ho Ho. Freddy Wilpon's got to go!"
Here are the Wild Card standings: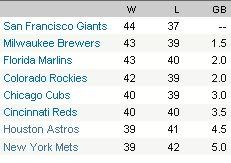 Ryan Church batting cleanup, half of the roster on the DL, unhappy fans, and looking up at seven teams in the Wild Card race are not good things. It's good to be a fan of the WFC but sometimes it's even better NOT being a Mets fan. Celebrate that today.
Corey