Most Valuable Player
- Raul Ibanez. No one saw this coming. He made the faithful forget about Pat Burrell almost immediately. His numbers would be even more ridiculous if not for the the recent injury.
Runner-up
- Chase Utley. Consistently awesome.
2nd Runner-up
- Jayson Werth. He has provided the right-handed power everyone was concerned the Phils wouldn't have when Burrell left.
Least Valuable Player
- Tie between Miguel Cairo and Eric Bruntlett. Do you think that when they released Cairo he may have just lossed a coin flip?
Runner-up
- Jimmy Rollins. For a major portion of the first half, Rollins has really hurt the team.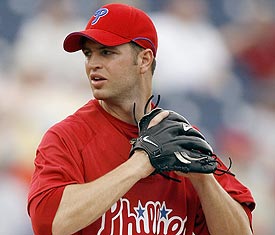 Most Valuable Pitcher
- JA Happ - Happ is 5-0 with a 3.04 ERA. After losing the last spot in the rotation to Chan Ho Park during Spring Training, Happ has rebounded to lead the starters in ERA. With all of the starters struggling at some point and Myers going out for the year, the Phils desparately needed someone like Happ to step up.
Runner-up
- Joe Blanton in his last nine starts.
Least Valuable Pitcher
- Kyle Kendrick. KK has the fewest innings and highest ERA of anyone to pitch for the Fightins this year.
Runner-up
- Jack Taschner. No one thought Taschner would be successful this season. Everyone was right.
2nd Runner-up
- Brad Lidge.
Corey