1) If Bobby Cox ever charges the dugout, Pedro will be all over him.

2) He may routinely bring a goodluck Hispanic midget dressed in Phillies gear to the ballpark.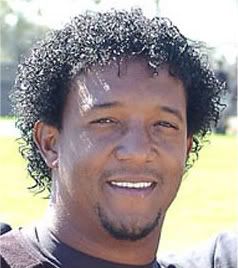 3) The team hasn't had a decent jheri curl since Steve Jeltz left.

4) Quotes. The man is a bloggers dream. My favorite:

I don't believe in damn curses. Wake up the damn Bambino and have me face him. Maybe I'll drill him in the ass, pardon me the word.
5) Cockfighting. Releasing the birds in the Dominican with Jaun Marichel is one thing, but throwing the roosters around Kensington with Steve Carlton would be another...
Corey