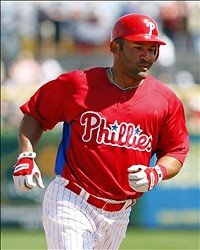 I once heard a woman say that if she found shoes that she liked, she would buy a pair in every color they made. I'm starting to think Ruben Amaro likes utililty infielders that can't hit. Representatives for Tadahito Iguchi and
Pumpsie Green
have already contacted the Phillies...
During a recent losing streak, Carson went after the bench, in particular Miguel Cairo, pretty hard. And although it is far fetched to believe that the last man on the bench would be a
large
part of the Phillies success or failure, players such as Bruntlett and Cairo do contribute.
I like both Bruntlett and Cairo. I think their versatility and ability to run out at most any position and provide adequate defense gives the manager of whatever team they are on increased flexibility in terms of pinch-hitting, pinch-running, double-switches, etc. However, one player like these two is enough. Their skill sets are redundant and given the limited roster space, one of them necessarily becomes the right handed PH option. We saw what that looked like last night. (Granted, Santana most likely would have gotten anybody out last night, but I honestly thought Chan Ho had a better chance than Bruntlett.)
The dueling utility infielders is a failure. One has to go and I don't care who and I don't care how Amaro decides. Coin flip, pulling straws, bribery, a competition from "
Real World/Road Rules Challenge: The Gauntlet III
." Whatever.
---------------------------------
First Time Ever?
So I was tremendously wrong last night. My bad. The game was worth watching and Chan Ho Park earned another start. I didn't watch Lost or Boy Meets World...
---------------------------------
Game Day
Jamie Moyer and that
large tongued freak Mike Pelfrey
are a combined 6-1, yet neither has an ERA under 5.65. The two square off tonight at Bailout Field as the Phils look to avoid the sweep.
Game time 7:10. Television via ComcastSportsnet. More than 50 comments about how big the stadium is via Wheels. Adultery via Jon And Kate Plus 8. Enjoy.
Corey