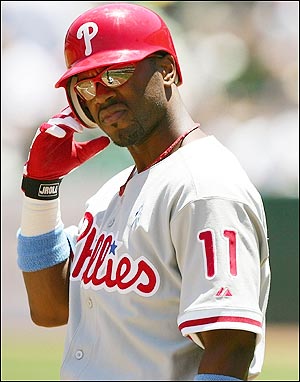 Don't you remember when we wanted Rollins moved down in the lineup in favor of Bobby Abreu? Don't you remember when I determined that a .
300 OBP is the "Rollins Line?"
We've been down this road before. Oh, the memories...
This year, Jimmy Rollins is doing his best Pat Burrell circa 2003 impersonation and it's killing the Phillies. Any thoughts of taking him out of the leadoff spot for awhile now?
"You tell me where he can go," manager Charlie Manuel said. "Believe me, I go over that every night. Tell me where we've got a leadoff hitter who can go up there and have an on-base percentage and everything."
I disagree with Charlie on this one. For an extended period of time, the Phillies can't win if Jimmy Rollins isn't producing from the top of the lineup. But for one or two games, they have enough lineup flexibility to get him out of the leadoff spot and see if a change of scenery could make a difference.
For example, the Phils see two lefties (Kershaw, Wolf) the next two days. Why not run this lineup out there?
Victorino
Werth
Utley
Howard
Feliz
Ibanez
Rollins
Ruiz
The last game of the series against righty Chad Billingsley is more tricky. Manuel will have to avoid stacking the lefties since the Dodgers have plenty of southpaw relievers. If Jimmy plays, he'll need to stay at the top and keep Werth in the 5-hole. But against a team with few or ineffective lefties in the pen, Manuel could stack the lefties and hit Rollins 7th again.
Corey