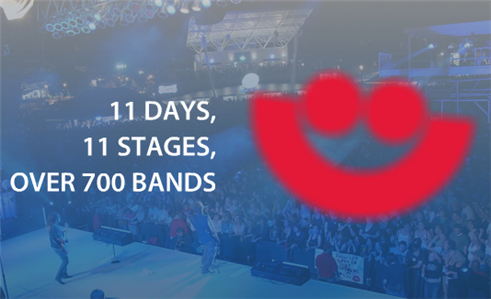 Music Festivals

Milwaukee - "Milwaukee Summerfest" is the largest annual outdoor music festival in the country.
Philly - The 2009 Philadelphia Music Festival will feature bands
no one cares about
and will have a "Red Bull DJ Stage."
Advantage - Milwaukee in a landslide. While Philly has a DJ booth, Summerfest has Rancid, The Dropkick Murphys, The Offspring, Flogging Molly, Whitesnake, Judas Priest, Kid Rock and Lynyrd Skynyrd. Bon Jovi is going to be there too, but we won't hold that against Milwaukee.
Homegrown Actor
Milwaukee - Gene Wilder
Philly - Kevin Bacon
Advantage - Philly. Wilder was in the movie "Hanky Panky" with Beau Starr, who appeared in the 2005 film "Where The Truth Lies" with Kevin Bacon. So, Gene Wilder has a Bacon Number of 2. Kevin Bacon has a Bacon Number of 1. Therefore, advantage Philly.
Inventions
Milwaukee - The typewriter was invented in 1867, in Milwaukee, Wisconsin by Christopher Latham Sholes.
Philly - Among Ben Franklin's numerous inventions were bifocals, the lightning rod, the odometer, and swim fins, for which he was inducted into the International Swimming Hall of Fame.
Advantage - Philly. - The typewriter is gone but swim fins will be here forever!
Statues For Fake People
Milwauke - The Fonz. A lifesized bronze statue of Arthur Fonzarelli was placed on the Riverwalk just last year.
Philly - Rocky.
Advantage - Push. I'm sure some of you might think this would be an easy win for Philly, but not so. Honestly, I wanted to give the category to Milwaukee. Look at that beautiful statue of the Fonz. It practically screams, "Aayy." It's nothing against Rocky, he was great, but he was no Arthur Fonzarelli. Fonzie rode a motorcycle, kicked a bunch of ass and pulled more tail than any other television character of his time. He was also a great philosopher, with such thought provoking statements like "Live fast, love hard, and don't let anybody else use your comb" and "There are two kinds of people, 'cool' and 'nerds.'" And if they ever do a remake of Happy Days, Fonzie could be played by Pat Burrell. However, because I foresee this being a divisive category and out of respect for Rocky, I decided to call it a "push."
Ex-Players on TV
Milwaukee - Bob Ueker did some pretty funny Miller Lite commercials. But his grand achievement in TV was his starring role in the one of the greatest sitcoms of the 80's, "Mr. Belvedere."
Philly - John Kruk starred in an episode of Aqua Teen Hunger Force. "Alright, then let's get wasted."
Advantage - Push. "Belevedere" and funny beer commercials is tough to beat, but the strength of that classic ATHF episode earns Philly a push.
Milwaukee is tough. A few close calls could have pushed them over the top but in the end, Philly prevails 2-1 with 2 pushes. That means the Phils should take this series with the Brewers, just like they did with San Diego and Washington and...
Corey