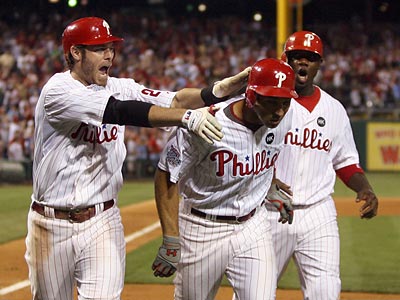 --------------------------
Lidge Watch
Fuqua said in the post-game presser that Lidge's unavailability last night was due to inflammation in his right knee. He had an MRI yesterday, which Fuqua said showed no structural damage.
The skipper said the Lidge was "day-to-day", but Post Game Live's Ricky Botallico isn't convinced. "You don't lay in a tube for nothing," said Ricky Bo. I'm pretty sure he was talking about the MRI machine, but either way, it sounds like Bottalico expects Lidge to miss some time. If so, we'll see how well Ryan Madson, the next Mariano Rivera, will do saving some games.
--------------------------
Romero Watch
JC Romero has
sued the supplement company
that makes 6-OXO Extreme, the product that resulted in Romero's positive test and suspension. He can't reduce his suspension. He'll be hard pressed to restore his reputation. But at least maybe he can recoup some cash.
--------------------------
Cooch Watch
While taking BP before the FeHams game last night, Cooch felt discomfort in his strained oblique. He didn't play in the game and will be re-evaluated today. He was scheduled to play for the R-Phils, but that appearance is uncertain.
--------------------------
Your Daily

Golden Girls

Fix
If you want the Phillies to win tonight, you'll watch this clip...