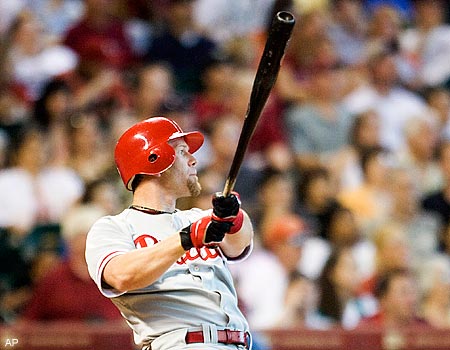 Phils Release Jenkins
The Phils wasted a lot of money on Geoff Jenkins, but unlike other wasted signing Adam Eaton, I'm sorry to see Jenkins go. It's amazing what a World Championship will do for a perspective...
Anyways, here is my concern with letting Jenkins and his $8 million walk - what do the Phils do when Ibanez and/or Victorino and/or Werth heads to the DL? Currently, the Phils do not have a player on the roster that can step in and play outfield every day for a month. Stairs is too old for that. Dobbs only played seven games in the outfield last season. The best option for a sustained stay in the outfield would be unproven, minor league prospect John "Opie" Mayberry.
Initial thoughts are that this opens a spot for a righthanded bat. But is that really necessary right now. Why not sign another player THEN release Jenkins? I'm not sold on this move right now. I hope Rube has a plan...
-------------------------
Sheffield? Oh hell no.
He's a "cancer." He hasn't hit since the Mitchell Report. He's a DH. And he isn't coming to Philadelphia.
-------------------------
Chan Hos Before Bros
As
Todd Zolecki reported
yesterday, Chan Ho Park will start the season as the Phils' 5th starter.
Park has a chance to be a solid 5th starter for the Phils. Of course, JA Happ has that chance also. The difference is, with Happ in the rotation the bullpen would be significantly stronger than it is now. So is taking Park out of the pen worth the upgrade over Happ? Is he even an upgrade over Happ?
I say Park will be in the pen and Happ in the rotation by May.
Corey