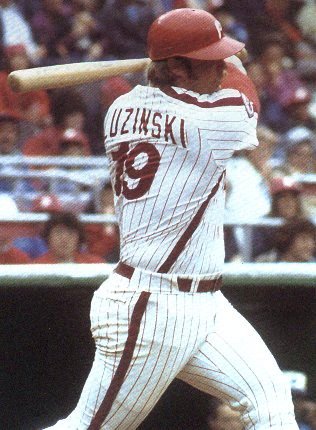 Usually our Phlashback Phriday subjects are not well known - Willie Jones, Jerry Martin, Todd Frowirth, etc. But today I thought I would mix it up and offer a Phillies great for reminiscence.
I never saw The Bull play. He made his mark in Philadelphia before I was born and I've only ever seen him behind the counter at his bar-b-q joint at The Cit. So, I don't have any personal stories or anecdotes. What I do have is some impressive homer totals and a neat little beer commercial.
Between 1975 and 1978, The Bull racked up 129 homers, four All Star appearances, had three years at .300 or better, three years with 100 or more RBI, and finished in the top 8 in MVP voting every year.
The Bull's 307 home runs ranks him #108 on the career list, but he'll likely fall down a few pegs as Troy Glaus, Paul Konerko, Jermaine Dye, Carlos Lee, David Ortiz and Adam Dunn are all within striking distance.
Now on to the real reason I picked Luzinski for the Phlashback: a twenty year old Lite beer commercial with tight clothes, fairway woods, and comical Asian sterotyping. Enjoy.
Corey